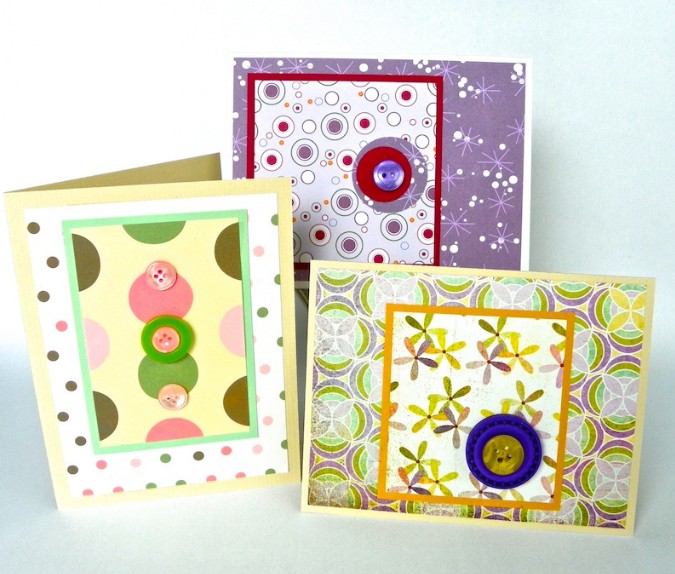 >
Making blank greeting cards yourself can be quick and easy, even if you've never made one before. Handmade cards carry just a little extra love along with your personal message – it's always nice to have some on hand for hostess gifts, thank-you notes or that birthday you almost forgot. The supplies are very inexpensive and easy to find at the local craft store. This spring craft project is fun to do with the kids, too!
Supplies:
Light color cardstock
Two coordinating patterned papers
Dark color cardstock to match the patterned papers
Flat buttons
Paper trimmer or scissors
Double-stick tape
Craft glue
Circle punches (optional)
Cut the light cardstock to 5-1/2" x 8-1/2" and fold in half – this size will fit inside standard white invitation envelopes that you can buy at an office supply store.
Cut a 3-3/4" x 5" rectangle from one patterned paper, and a smaller rectangle (or square) from the second patterned paper.
Cut a rectangle from the dark cardstock so it's just 1/4" larger than the smaller patterned piece.
Layer and tape the papers together on the front of the card as shown. Place tape on all four sides, close to the edges. You can position each paper to be centered or off-centered, whatever way you like!
Glue a couple colorful buttons on top – try nesting a small button inside a larger concave button.
That's it – you're done! A little cutting and taping with some colorful papers and presto – you have a lovely selection of handmade greeting cards. Picking out the different patterned scrapbook papers at the store is half the fun—enjoy!
Photo credit and card designs: Lisa Fulmer
EVENTS
March 29
10:00am – 4:00pm
Swan Day – Support Women Artists Now
Martinez Arts Association
End of Ferry Street – Downtown Martinez
March 29
11:00am – 3:00pm
Spring Fling Craft Boutique
Winslow Center, Pleasant HIll
March 30
4:00 – 7:00pm
Bay Area Funk – Concert
Armando's – Martinez
April 3
6:00 – 8:00pm
Woodcarving Class – I've Been Framed Gallery
Martinez
April 5
5:00pm – 8:00pm
Art reception – Jazz, Jam & Jive
I've Been Framed Gallery – Martinez
April 5-6
Contra Costa County Guild of Quilters Annual Show
Centre Concord
April 6
2:00 – 5:00pm
CC14 Art Reception
Art Cottage, Concord
April 8
6:00-8:00pm
Poetry Slam
Antioch Historical Society Museum
April 12
8:15pm
Ready or Not – Improv Comedy
Lesher Center, Walnut Creek
April 17-19
9:00am – 4:00pm
California Watercolor Association
Plein Air Art Workshop with David Savellano
CSU Concord Campus
Save the dates!
Public Art Walking Tour
April 19 and May 17
Walnut Creek
Spring Artists' Market
May 2-4
Civic Park and Shadelands Auditorium, Walnut Creek
Spring Craft Fest
May 4
Bedford Gallery, Walnut Creek
Concord Art & Wine Walk
May 10
Todos Santos Plaza
Artistic DIY Craft Technique Classes
Thursday nights in May, 6-9pm
Mt. Diablo Adult School, Pleasant Hill
25th Annual KidFest
May 24-26
Concord
Arts, Adventure & Academics
Kids' Summer Camp
June 23 – July 5
Walnut Creek Civic Arts Education
Creative Space is a weekly column written by Lisa Fulmer that features local art events and performances, inspiring interviews with creative movers and makers, DIY how-to projects for you and our home, plus fun craft ideas for the whole family. Creative Space will be on Claycord.com every Thursday at 2pm.

As an avid creative junkie living in Concord, Lisa wants to make it easier for our readers to find ways to embrace creativity and celebrate the local people who are making it happen. In addition to her work as a writer and a marketing consultant, Lisa is a mixed media artist and a project designer for the craft industry.

Visit her blog to see more of Lisa's own creative space.