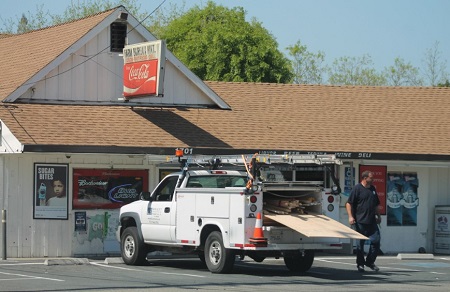 >
Thieves got away with an ATM from a Concord store in an early Sunday morning heist, a police lieutenant said.
Police were called at 5:26 a.m. about a burglary at Farm Bureau Market at 1701 Farm Bureau Road, Concord police Lt. Ivan Menchaca said.
Officers arrived and found that the ATM had been taken while the store was closed overnight.
From video surveillance footage from the market, investigators were able to see the thieves loading the machine into a white van, Menchaca said.
The thieves got away with an unknown amount of cash and the investigation is ongoing, Menchaca said.
Vinod Kumar, the owner of the market for the past 12 years, said the burglars only took the machine.
To get inside, they broke a glass sliding door and used tools to pry the machine out, he said.
He estimated that there was about $600 in the machine.
Despite the break-in and damage, he said the store is open today with customers coming in to check on him and his staff.
RELATED STORY: ATM Stolen from Farm Bureau Market in Concord