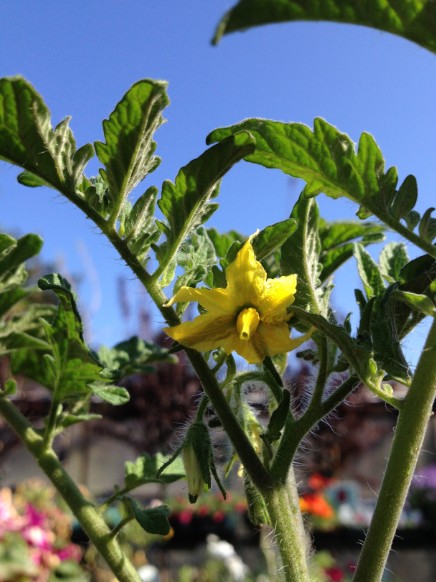 >
Okay, Claycord veggie growers, now it is time to plant all your favorite summer vegetables. I know many of you have already started, and those of you who haven't…don't consider yourself late, you are right in time.
Tomatoes are the most installed summer vegetables. Considering our current water issues this isn't the year to try some new selection, it is the year to install productive varieties that are proven to produce dozens of the tomatoes we love. Three traditional style tomato selections to fearlessly install are Early Girl, Champion and Big Beef.
Early Girl ripens fast. The grower is gifted with fabulous 4-6 ounce tomatoes perfect for slicing. Early Girl is very dependable and defiantly the most planted tomato throughout Claycord. Another bonus of the Early Girl tomato is its resistance to disease. This tomato is indeterminate. Indeterminate tomatoes produce consistently throughout the growing season. They grow like vines and will need to be supported.
Champion tomatoes are another excellent selection. They are a full sized 8-ounce selection that is solid, meaty and very sweet. You'll need to support the Champion tomato as well. Champion makes an excellent sandwich tomato.
Big Beef is a hybrid tomato. They took the Beef Master and Big Boy to create this traditionally flavored, delicious tomato. Big Beef is a colossal size tomato. You can expect tomatoes to grow up to a pound. Big Beef is a round, normal shaped, red tomato.
Cherry type tomatoes are always popular. Sweet 100's are the most planted and talked about cherry tomatoes. They have prolific yields with a super-sweet flavor.
Yellow pear tomatoes are also fabulous installations. Their unique shape and color make them standouts in the garden. They are very productive plants with an exceptionally long season of harvest.
We are still going to plant our vegetables. Water restrictions or not. We are just going to be wiser. Container grown vegetables may the way to go for many concerned about their water use. Planting in containers prevents water waste from runoff. Some containers such as the Earth Boxes waste no water at all. Containers have come a long way. Fabric Raised Beds and Pots are also an option for someone who wants to grow more. Container grown vegetables you can be grown in premium soils that are designed to hold water longer. If your containers are the right sizes, you'll really be successful.
Happy Gardening.
Nicole Hackett is the Garden Girl at R&M Pool, Patio and Gardens, located at 6780 Marsh Creek Road in Clayton, 925-672-0207.
Nicole writes for the Clayton Pioneer Newspaper, and Claycord.com. She is also the Clayton Valley Garden Club 2012 President.

>