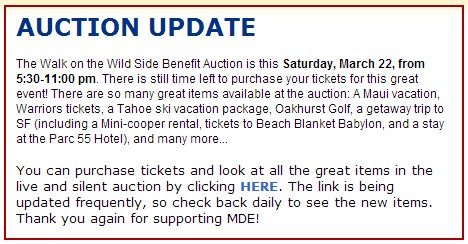 >
Tickets are still available for the Mt. Diablo Elementary School auction TONIGHT at the Crowne Plaza Hotel in Concord.
Here is the information: Please come join us for a night of food, raffles, live and silent auction items, games, dancing and gaming tables.
This is one of Mt. Diablo Elementary's biggest fundraisers and we would love for you to come and help support our school.
It will be held at Crowne Plaza Hotel 45 Glenn Drive Concord from 5:30pm-11pm on Saturday, March 22nd.
Tickets still avaliable at the door for $45 a ticket (adults only).