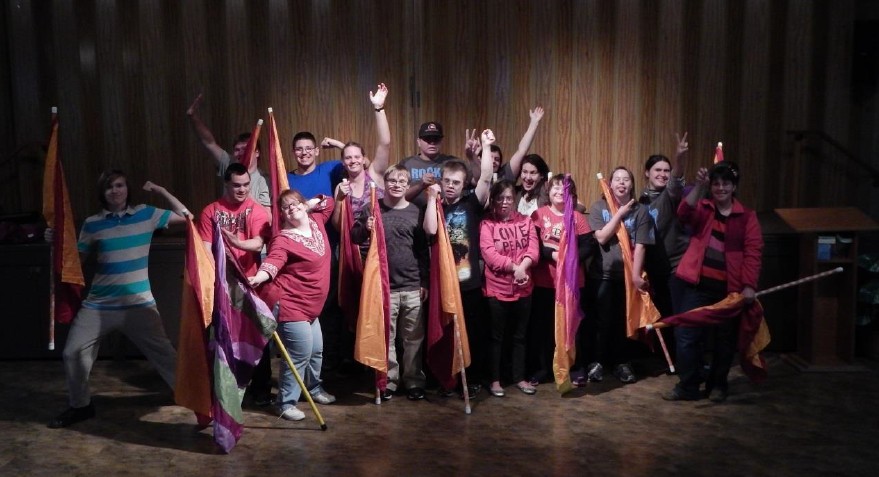 >
The world renowned Blue Devils of Concord, one of only a handful of special needs color guard groups in the nation, will be performing at the California Circuit Championships on March 29th at Independence High School in San Jose.
Over fifty color guard units from various areas of California will be competing at this event but the Blue Devils Special Needs Color Guard of Concord are in a league of their own.
These youth refuse to let physical or developmental disabilities stand in the way of their passion for performance in the marching and color guard arts. At last year's California Circuit Championship the group received the only standing ovation, from a crowd of 5,000, of the day.
When they perform they wow the audience and there is never a dry eye in the house, says Annette Odello, instructor of the group. "They give 110 percent at each performance and everyone who sees them leaves feeling good."
Moreover, the performances give these dedicated youth a chance to feel good about themselves and their hard work. Blue Devil member Spencer Trevarthen, states, "Last year when we performed I felt like a rock star and this year will be even better!"
The Blue Devils will be performing a variety of moves to music along with the spinning of equipment such as flags and banners. They have been practicing weekly for the last six months to make this performance something everyone will enjoy and remember long after the last flag is waved.
The Blue Devils Special Needs Color Guard was founded in 2011 by Annette Odello after seeing the positive impact a special needs color guard had on her able-bodied color guard students. The program is open to all special needs youth ages 12 to 25 and provides them with the opportunity to express themselves through traditional – and not so traditional – color guard routines and pageantry.
For more information please visit the Blue Devils website by CLICKING HERE.