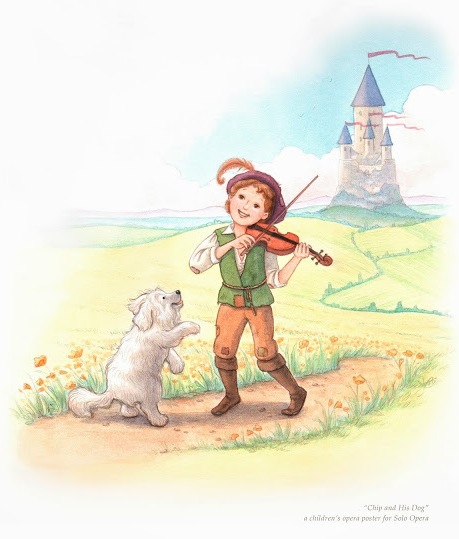 >
Solo Opera is back! This nonprofit chamber opera company ran successful productions in Walnut Creek from 2000 – 2005, then closed its doors for economic reasons. In 2012, they reopened with a new outreach program called Storybook Opera for children and their families to enjoy.
Founder and Artistic Director, Sylvia Amorino, enjoys many creative pursuits, including crafting and dollmaking, and she has been a local voice teacher and stage director for 30 years. Her love of opera began as a child when her mother used to take her to see opera performances in San Francisco.
"I'm so happy to bring our opera program back to the Concord and Walnut Creek area and create some new jobs for performers and musicians," says Amorino. "I've been dreaming about doing children's opera for years. I want more children to experience the joy of opera through stories and characters they can relate to."
Solo's summer production in July at Lesher Center for the Arts is in collaboration with the Cantabella Children's Chorus of Livermore. There will be a 30-minute performance of Chip and His Dog, by Pulitzer Prize-winning composer, Gian Carlo Menotti, as well as a choral performance of Benjamin Britten's Friday Afternoons, a selection of twelve children's songs.
Chip and His Dog is a story about a young violin-maker and his talented dog who capture the heart of a princess and her entire kingdom. Concord High School student, Milena Kren (seen below with Sylvia Amorino in rehearsal), has been cast to play the Princess, in tandem with another East Bay high school student, Celeste Tomaschke. The role of Chip will be shared by 6th grader Ethan Yuet-Hong Yan and 8th grader Olivia Howe. Twenty kids and teens with ages ranging from 10 to 18 years were cast, with rehearsals beginning in June.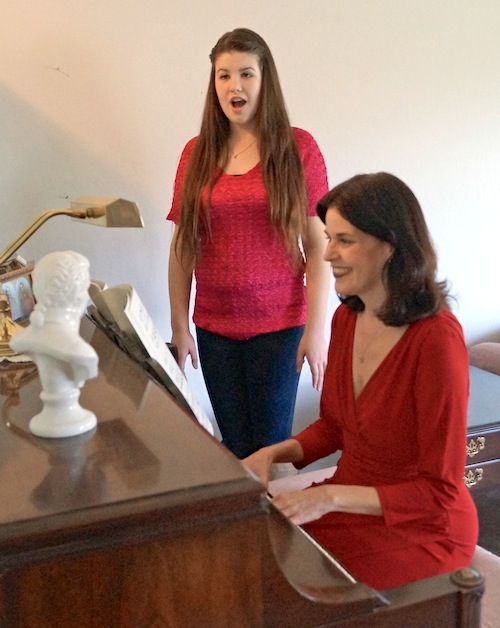 >
Visit the Solo Opera website and subscribe to their email list to keep up with their latest news and casting calls. Like their Facebook page and watch for opportunities coming up to win tickets!
Photo credits: "Chip and His Dog" illustration by Pamela Goodman; rehearsal photo by Miguel Gonzalez
EVENTS
March 21
Pinafore Sing-Along
Lampllighters Music Theater
Lesher Center, Walnut Creek
March 21
8:00pm
Renee Harcourt and Katie Dahl – music performance
Devil Mountain Coffee House
Mt. Diablo Unitarian Universalist Church, Walnut Creek
March 22
11:00am – 1:00pm
Color Workshop for Home Décor
Jennifer Perlmutter Gallery, Lafayette
March 22
8:00pm
Diablo Choral Artists – Dona Nobis Pacem
St. Paul's Episcopal Church
March 23
6:00pm
Bradley School of Music – Student Jam
Vinnie's Bar & Grill, Concord
April 2
4:00 – 5:00pm
Printmakers Exhibit – Meet the Artists
Walnut Creek Community Art Gallery
April 5
3:00pm
Clairdee – Jazz performance
Shadelands Auditorium, Walnut Creek
April 5-6
Contra Costa County Guild of Quilters Annual Show
Centre Concord
April 6
2:00 – 5:00pm
CC14 Art Reception
Art Cottage, Concord
April 12
9:00am – 4:30pm
Weaving workshop
Walnut Creek Civic Arts
Save the dates!
Public Art Walking Tour
April 19 and May 17
Walnut Creek
Spring Artists' Market
May 2-4
Civic Park and Shadelands Auditorium, Walnut Creek
Spring Craft Fest
May 4
Bedford Gallery, Walnut Creek
Concord Art & Wine Walk
May 10
Todos Santos Plaza
Artistic DIY Craft Technique Classes
Thursday nights in May, 6-9pm
Mt. Diablo Adult School, Pleasant Hill
25th Annual KidFest
May 24-26
Concord
Creative Space is a weekly column written by Lisa Fulmer that features local art events and performances, inspiring interviews with creative movers and makers, DIY how-to projects for you and our home, plus fun craft ideas for the whole family. Creative Space will be on Claycord.com every Thursday at 2pm.

As an avid creative junkie living in Concord, Lisa wants to make it easier for our readers to find ways to embrace creativity and celebrate the local people who are making it happen. In addition to her work as a writer and a marketing consultant, Lisa is a mixed media artist and a project designer for the craft industry.

Visit her blog to see more of Lisa's own creative space.