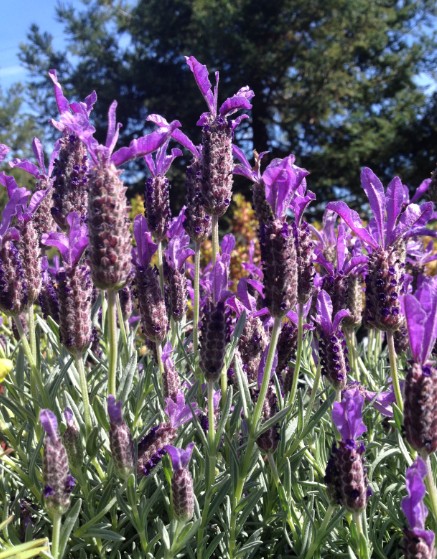 >
Lavender is an incredibly hardy, evergreen herb. For decades people have been planting lavender for luck. Lavender is extremely water-wise, and the flowers are very bee attractive. Lavender is available in many varieties. Flower color, length of bloom, fragrance of the foliage and plant sizes will all depend on the variety installed. Being aware of the lavender variety that you are installing. They all look the same in a one-gallon black nursery pot.
Spanish Lavender is a nursery standout! This lavender has a popular, deep purple color, and is one of the earliest blooming lavenders in the garden. I always suggest those gardening in full sun plant some Spanish Lavender, the early bloom makes spring more enjoyable. Spanish Lavender has some offspring that are great considerations in a landscape. You can choose the straight Lavandula stoechas, or perhaps install the Otto Quast, or the new variety Fairy Wings. Occasionally you can find Spanish Lavender with pink blossoms, or white. They should be all treated the same, and installed in full sun. The Spanish Lavender could mature to 3' tall and wide, so that needs to be considered when installing.
English Lavender is the most planted lavender, highly suggested by landscape designers. You will find it at the nursery sold as Lavandula angustifolia. This evergreen is tolerant of drought conditions, deer and gophers. When planting English Lavender you can expect 3-4' of height and width. Consider the mature growth when installing, allow 4 feet of space, that is 48", which is a lot of property. Crowding lavender isn't an attractive display. English Lavender is a summer bloomer, and has lavender-blue flowers. You will get the largest displays of flowers from June almost through August. To keep your lavender blooming, you will need to cut away the expired flowers. When pruning any lavender, always make deep cuts, taking stems down in to last years growth.
Lavandula x intermedia 'Provence' is the most desired lavender plants for those wanting the intense fragrance provided by the foliage. Lavender 'Provence' is fantastic in a container selection, makes a great cut flower and needed ingredient for potpourri. The growth of the 'Provence' as a base of foliage, and the flower stands tall on stretched stems. The bottom base of the 'Provence' can be 2', and the flower stands an additional foot above. This selection is greatly attractive to bees and butterflies, and makes a nice border around a vegetable garden, or near fruit trees. Lavandula 'Provence' has a typical lavender-blue flower. When cutting the flower, make certain you cut deep into the plant, to keep generating, new fresh foliage.
Lavandula 'Goodwin Creek' is one of the largest growing lavenders, reaching a solid 4+' tall and wide. The 'Goodwin Creek' has very gray foliage, as if its been dusted with powder. This lavender is too big for most containers, and should be put into the landscape. The flower of 'Goodwin Creek' is dark purple. I like to use this lavender to support deciduous trees, like the Crape Myrtle, or Flowering Plum.
Not all lavenders are big; there are two cousins of the English Lavenders that have been successfully hybridized and made dwarfs. They are the Hidcote, and the Munstead varieties. They have all the attributes of English Lavender yet stay on the small side. You can expect 1-2' of height, and about 3' of width from these selections. They make nice front row additions to perennial beds, or small borders.
Lavender is a commonly planted ornamental herb that is often misunderstood. We plant lavender for the fragrance of the foliage, the durability of the shrub, and our affinity of the blossom. Then after a few seasons, lavender may suffer from overgrowth, fertilizer damage and over watering. It is a sad sight to see. Treatment like this gives lavender a bad name, and potential planters are quick to pass by this ornamental herb when shopping for plants. Don't over-love your lavender plants with too much water and fertilizer. Cut back faded blooms deeply and often, and you'll fall back in love with this fantastic ornamental.
Happy Gardening.
Nicole Hackett is the Garden Girl at R&M Pool, Patio and Gardens, located at 6780 Marsh Creek Road in Clayton, 925-672-0207.
Nicole writes for the Clayton Pioneer Newspaper, and Claycord.com. She is also the Clayton Valley Garden Club 2012 President.

>