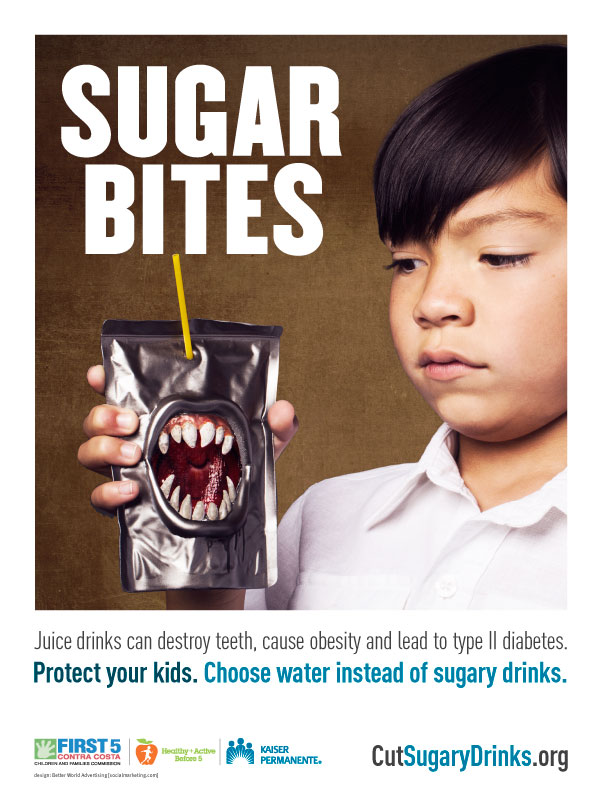 >
Contra Costa County health officials announced they are launching a public awareness campaign to encourage parents to curtail the number of sugary drinks they give their children.
The "Sugar Bites" campaign will consist of bilingual ads on BART platforms, transit shelters, billboards and in store windows showing images of toothy monsters on juice drink containers.
The campaign, a joint effort sponsored by First 5 Contra Costa, Healthy and Active Before 5 and Kaiser Permanente, seeks to reduce tooth decay, obesity and type II diabetes among children.
"Most parents know that soda isn't good for young children, but deceptive marketing tactics trick them into believing that juice drinks are a healthy alternative. They're not," said Contra Costa Health Services pediatrician Dr. Diane Dooley in a statement.
"Most popular children's juice drinks contain little fruit, unnecessary calories and loads of sugar," Dooley said.
The American Academy of Pediatrics suggests that children between 1 and 6 years old should consume no more than four to six ounces of 100 percent fruit juice per day, but pre-schoolers drink twice that or more, particularly in low-income households, county health officials said.
The ads will go up in Concord, Bay Point, Pittsburg and Richmond, while pamphlets and posters will also be made available in health centers, nonprofit organizations and child care programs.
More information about the campaign can be found online at www.cutsugarydrinks.org.