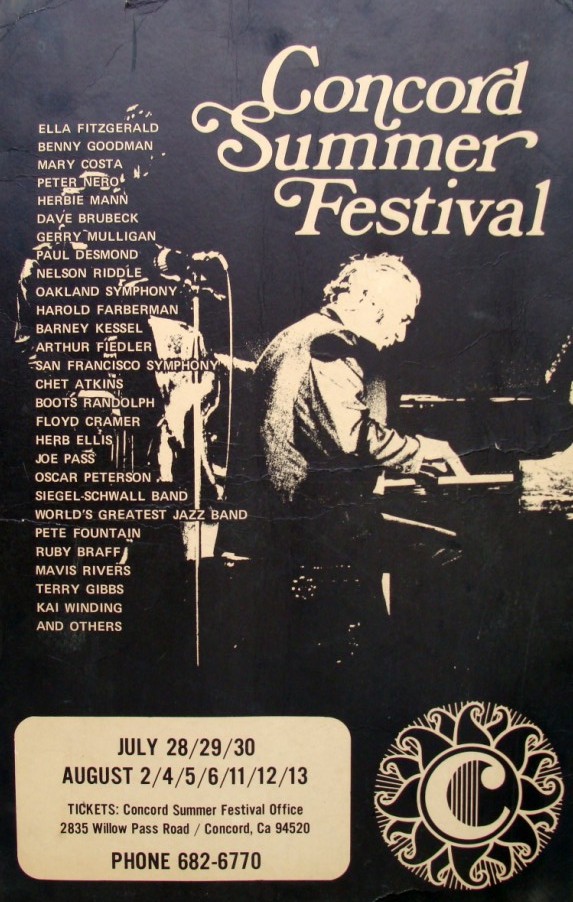 >
Thanks to Dennis for sending us this old poster advertising the Concord Jazz Festival. Although we're not sure what year this was from, this is a perfect feature for today, because as we reported last week, the Concord City Council is expected to name Dave Brubeck's "Take Five" as Concord's "Most Treasured Song" at tonight's council meeting.
Here's an updated story on tonight's meeting:
Concord civic leaders tonight will honor one of the city's most renowned native sons, jazz legend Dave Brubeck, by spotlighting his iconic "Take Five."
The Concord High School Minutemen jazz band will bring the classic piece to life during a 30-minute concert before tonight's City Council meeting, during which the council is expected to name "Take Five" the city's "most treasured song."
The crowd-pleasing piece was composed by Paul Desmond and played for the first time by The Dave Brubeck Quartet in the 1950s. It remains one of the best-selling jazz singles of all time.
Brubeck was born and raised in Concord and returned to his hometown many times over the years to perform "Take Five" as well as other pieces.
In the 1970s, he played alongside a number of other world-class jazz artists including Oscar Peterson, Pearl Bailey and Ella Fitzgerald in the Concord Jazz Festival.
City officials say Brubeck's participation in the festival led to the construction of the Concord Pavilion, which opened in 1975, and helped put Concord on the map as a West Coast jazz destination.
Brubeck died in Norwalk, Connecticut on Dec. 5, 2012, a day before his 92nd birthday.
His last visit to Concord was in 2006, when the city renamed the Concord Boulevard Neighborhood Park after him.
The designation of his best-known song as the city's "most treasured" is just another way of honoring his legacy, city officials said.
"It just puts a mark of recognition on Dave Brubeck more than anything," Concord City Clerk Mary Rae Lehman said. "We're just very respectful of his talents and the contributions he's made as a humanitarian."
In 2000, the Brubeck Institute was established at the musician's alma mater, Stockton's University of the Pacific.
The institute is meant to honor the legacy of both Dave and his wife Iola Brubeck and their commitment to music, creativity, education and social justice.
ABOUT THE CLAYCORD ONLINE MUSEUM: The Claycord Online Museum is made up of historical photos, documents & anything else that has to do with the history of our area.
If you have any old photos or items that you'd like to place in the Claycord Online Museum, just scan or take a photo of them, and send them to the following address: news@claycord.com. It doesn't matter what it is, even if it's just an old photo of your house, a scan of an old advertisement or an artifact that you'd like us to see, send it in and we'll put it online!
Click on the tag below titled "Claycord Online Museum" to view other items!