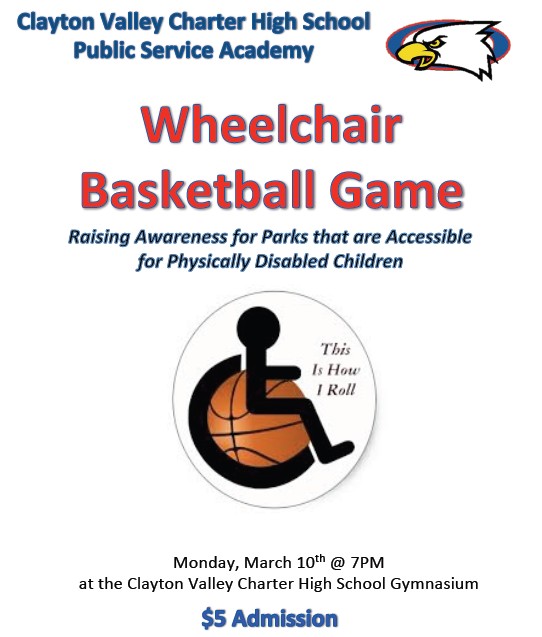 >
TONIGHT, at Clayton Valley Charter High School in Concord, the students will be hosting a wheelchair basketball game to raise funds for a very worthy cause.
Here's all the information from the student who planned and organized the event.
My name is Alexa Kallas, I am a sophomore at Clayton Valley Carter High School and I am in the Public Service Academy.
Each year the academy gets together to do projects based on the statement "If I could change my community…". We all write essays and then vote on them to see which top 12 projects we will pursue to help.
I finished the statement with, "I would help raise awareness of parks that are friendly for physically disabled children". In concord we are lucky enough to have Matteo's Dream, but in a lot of other communities the children have to miss out on this amazing experience.
Tonight, we are hosting a Wheel Chair basketball game in Clayton Valley's large gym. A combination of varsity boys basketball and JV girls basketball will be playing a team from Bay Area Outreach and Recreation Program (BORP) 100% of the proceeds will be used towards a project to hopefully add a handicap swing in a park somewhere in Clayton or Concord.
I would be very appreciative if you could post this flyer or something about it on your blog so we can raise as much awareness as possible.
What a wonderful event. Good luck with the project, Alexa!
Remember, the event is TONIGHT at 7pm inside CVCHS' large gym.