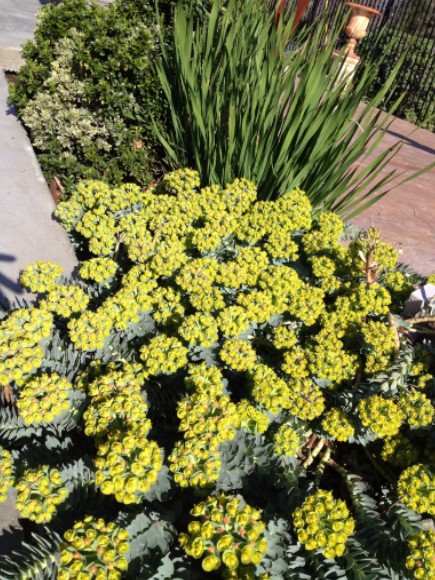 >
Euphorbia is a tough, drought resistant evergreen that will thrive in almost any Claycord landscape. Its interesting foliage and unique flowers are extremely appealing. Euphorbia looks great surrounded by stone, along rock walls, near swimming pool, or in hard to water containers.
Many years ago we learned about the drought tolerance of Euphorbia quite by accident. It was installed in the flowerbed of an English Garden. Barbara, the customer, was an experienced gardener. Euphorbia was a" new to us" plant. She was taken by the dark foliage, and thought it would contrast well against the white blooming candytuft. After a couple months in the ground, the Euphorbia gave up and died. Barbara was did what any garden-lover would do, and bought a couple more. She was determined to grow her vision. Again, the Euphorbia started to fail. Barbara dug up the plant and inspected the roots, they were drenched and smelly. The Euphorbia couldn't tolerate the water that the rest of the flowerbed was receiving. Lesson learned.
Euphorbia Helena's Blush has an awesome variegation of cream, green and pink. In the late winter through spring flower stalks curl upwards towards the sky. Clusters of cream bracts with burgundy centers create the flower display. This Euphorbia will grow 18"-2' tall and wide. It can by used as a small shrub in a landscape layer. If you are installing a minimal amount of plants in an area, the Helena's Blush can stand alone, surrounded by dark colored mulch and still make a statement. If you are considering companion plants for Helena's Blush Euphorbia, think about mixing with Tom Thumb Phormium, Coreopsis Early Sunrise and red foliage Smoke Bushes.
Euphorbia Black Bird has dark, eggplant colored foliage. The flower display is born in clusters of lime green colored bracts with burgundy centers. This selection of Euphorbia is very desirable. The growth u-shaped, 2' tall and wide. Euphorbia Black Bird is excellent in any full sun landscape. Use this evergreen as a layer to the taller Salvia Leucantha.
Not all Euphorbia is shrub-like. Euphorbia Rigida is a ground cover selection. The shape of the leaves of this Euphorbia is often confused with a succulent. Gray, triangular-shape leaves lines sturdy, tube-like stems. When in bloom, green bracts and green flowers contrast off the Rigida's gray foliage. Euphorbia Rigida looks great in a rock garden. Give this evergreen some space. Rigida will set seed and spread throughout a landscape.
Another great attribute of all Euphorbia is that they are totally deer and gopher resistant. Their milky sap is toxic, so critters leave the plants alone. Some garden lovers are bothered by Euphoria, so if you have many plant allergies, you may want to steer clear of this selection.
Happy Gardening!
Nicole Hackett is the Garden Girl at R&M Pool, Patio and Gardens, located at 6780 Marsh Creek Road in Clayton, 925-672-0207.
Nicole writes for the Clayton Pioneer Newspaper, and Claycord.com. She is also the Clayton Valley Garden Club 2012 President.

>