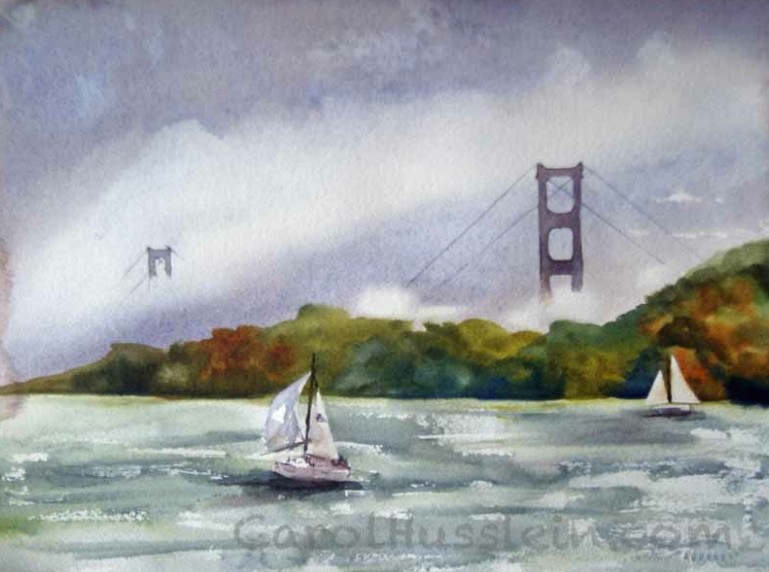 >
Established in 1963, the Concord Art Association is a non-profit, volunteer-run group of over 70 local artists who are dedicated to developing their skills and sharing their work with our community.
Members enjoy many benefits, including the opportunity to display and sell their work in CAA exhibits that are held in conjunction with other Bay Area art associations, as well as in local rotating galleries that are installed at various local businesses, such as State Assemblywoman Susan Bonilla's district office on Salvio Street.
Carol Husslein has served as the CAA's President for the past five years. "What I love most about this group is that we're all so supportive of each other's work – we inspire each other and help newer artists build their confidence. Some of our members are professional artists and others explore art as a creative hobby. We really enjoy learning about new techniques and artistic genres in our meetings each month." Carol painted the watercolor above of the San Francisco Bay, and she was shown in last week's post, painting in Salvio Pacheco Square.
The public is welcome to attend CAA meetings at the Concord Public Library on the second Tuesday of each month (1:00 – 3:00pm). Members conduct a little business first, refreshments are served, then a visiting artist provides a demonstration. Mixed media artist Nancy Matthews will share some of her favorite techniques at next week's meeting. Past demos have included collage, palette-knife painting, journal sketching, silk painting, wood carving and even sugar sculpture.
Members like Sandy (below right) also use the meeting time to display their most recent work for a private voting session. Annual "Artist of the Year" certificates are awarded in January to three members who shared their work consistently and garnered the most votes during the previous year. A newer member, Dorothy (below left), had been taking art classes for only a few years and she won 3rd place for her work this past January.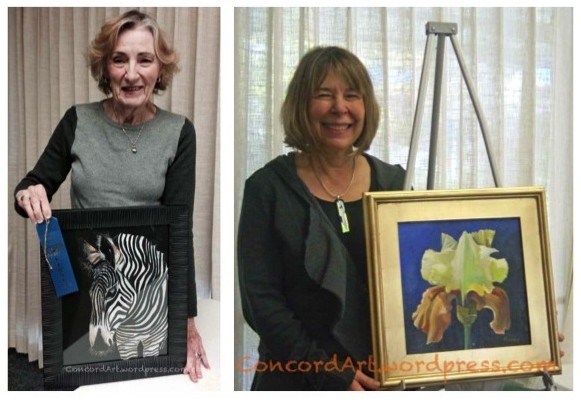 >
At just $20 per year, membership is open to any adult artist in the greater Concord area. All mediums and all skill levels are welcome. Annual dues go toward paying the visiting demonstrators and for maintaining a members-only lending library of art education DVDs.
Local businesses that have public-access space are welcome to contact the CAA for information on installing a selection of CAA members' work on their walls for three-month intervals.
EVENTS
March 7
8:00 – 10:00pm
The Lonely Beach – concert
Diablo Valley College Performing Arts Center
March 7-16
South Pacific – Musical
California Theater, Pittsburg
March 8
2:00 – 5:00pm
Mark Jezierny Art Exhibit Reception
Art Cottage, Concord
March 9
3:00 – 5:00pm
Sky – Art Exhibit Reception
Bedford Gallery, Walnut Creek
March 11
1:00 – 3:00pm
Monthly meeting/demo
Concord Art Association
March 14
5:00 – 7:30pm
Location – Art Exhibit Reception
Lafayette Art Gallery
March 14-15
Smuin Ballet – XXtremes
Hoffman Theater, Walnut Creek
March 21
6:00-8:30pm
Creekside Artists Exhibit Reception
Clayton Community Library
March 29
8:00pm
Julius Courtney – Big Band
California Theater, Pittsburg
March 29 – May 9
Concord Art Association Exhibit
Aspen Surgery Center Lobby
Walnut Creek
Save the dates!
Contra Costa County Guild of Quilters
Annual Show – April 5-6
Centre Concord
Public Art Walking Tour
April 19 and May 17
Walnut Creek
Spring Artists' Market
May 2-4
Civic Park and Shadelands Auditorium, Walnut Creek
Spring Craft Fest
May 4
Bedford Gallery, Walnut Creek
Concord Art & Wine Walk
May 10
Todos Santos Plaza
Artistic DIY Craft Technique Classes
Thursday nights in May, 6-9pm
Mt. Diablo Adult School, Pleasant Hill
25th Annual KidFest
May 24-26
Concord
Creative Space is a weekly column written by Lisa Fulmer that features local art events and performances, inspiring interviews with creative movers and makers, DIY how-to projects for you and our home, plus fun craft ideas for the whole family. Creative Space will be on Claycord.com every Thursday at 2pm.

As an avid creative junkie living in Concord, Lisa wants to make it easier for our readers to find ways to embrace creativity and celebrate the local people who are making it happen. In addition to her work as a writer and a marketing consultant, Lisa is a mixed media artist and a project designer for the craft industry.

Visit her blog to see more of Lisa's own creative space.