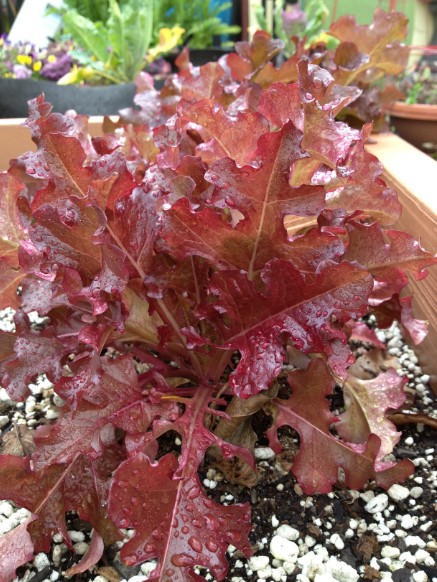 >
It is early Spring planting time! Backyard vegetable gardening season begins in March. You can install onion, shallot and garlic bulbs, asparagus, rhubarb and horseradish roots, carrots, salad greens, kale, spinach, chard, beets, radish and sugar peas starts and seeds. Not tomatoes! Not outside, not yet.
Bulb planting of onions, shallots and garlic is simple method to get lots of bang for the dollar. This group of bulb grown vegetables are super easy to grow. They thrive in loose soil, so consider installing in a raised bed or container. Homegrown onions have a mild, pleasant flavor. They can sway a non-onion lover to the other side. Shallots are nice to have on hand. The mature size of a shallot provides just enough zing in a recipe for those that cook for smaller numbers. Garlic is delightful in the garden. Not only is it handy to pluck from the soil, the flavor is far superior. Fresh garlic is dense with oils, and a little goes along way. Some choose to harvest young garlic. This is called Green Garlic. The flavor of green garlic pairs well with proteins such as fish and chicken.
When buying bulb vegetables look for firm, healthy bulbs. Take a moment to inspect the packages. If you can't see them, don't waste your time planting them.
Asparagus is a perennial vegetable purchased as a root. Once planted, you'll enjoy many seasons of yields. This root needs to be installed in loose, well-amended soil in afternoon sun. Asparagus becomes productive the second year after installation, so be patient and you'll be well rewarded.
Sometimes you'll have a tough time finding where rhubarb likes to live in your garden. Around town I have seen rhubarb thriving in various applications from full sun to partial sun. I have seen in planted out in the garden as well as near the shelter of a home. Rhubarb picks where it is happiest. This perennial vegetable may fail in one location, only to thrive in another. When rhubarb becomes happy, you'll enjoy its stalks for years to come. Remember the only edible part of the rhubarb is the stalk.
Horseradish is installed as a root and needs some room to grow. It is instantly successful and will thrive in almost any location. As clumps of horseradish widen, you can divide and pass along to neighbors and friends.
Seeds for spring gardens can be started indoors today if you'd like. Start your leafy greens, beets, radish, carrots and peas in small pots filled with seed starting soil, or basic potting soil. Keep seeds moist and not over wet. Depending on the weather you can put your seed starts in the ground or raised beds as soon as the night temperatures don't dip below 50 degrees. Beets, radish and carrots need a deeper vessel or raised bed to grow in. Loose soil makes for optimum growing conditions. Peas need to grow up a trellis. Leafy greens such as salad greens, spinach, chard and kale can be grown almost anywhere. They don't need much space for their roots. You can get very creative with leafy greens. They are beautiful and make nice accents in flowering containers as well. If you are into kale for smoothies and juicing, you'll need to plant lots!
Tomatoes should not be planted outdoors just yet. Seed starts need to be kept inside, as well as prematurely bought starts. Transplant tomato starts into larger containers with a premium potting soil. Keep inside until nighttime temperatures stay above 50 degrees.
If you aren't ready to start spring vegetables…get ready. They're among the easiest veggies to grow.
Happy Gardening!
Nicole Hackett is the Garden Girl at R&M Pool, Patio and Gardens, located at 6780 Marsh Creek Road in Clayton, 925-672-0207.
Nicole writes for the Clayton Pioneer Newspaper, and Claycord.com. She is also the Clayton Valley Garden Club 2012 President.

>