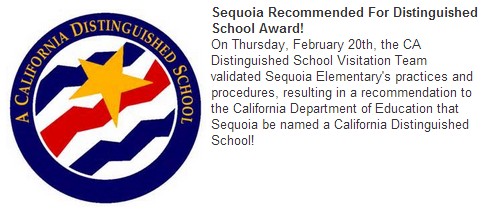 >
The California Board of Education has officially nominated Sequoia Elementary School in Pleasant Hill as a Distinguished School.
This is the first time Sequoia Elementary has been recommended for the Distinguished School program, which began in 1986.
Dr. David Franklin, Sequoia Elementary principal, stated that the nomination team was impressed with every aspect of the school, and thanked the wonderful teachers, parents, and students. Mt. Diablo Unified School District Superintendent Nellie Meyer joined Dr. Franklin and validated the instructional and curricular alignment to district and state initiatives to the nomination team.
In order to be invited to apply for Distinguished School honors, schools must meet a variety of eligibility criteria including designated federal and state accountability measures based on the Elementary and Secondary Education Act (ESEA) and the Academic Performance Index (API) requirements.
Sequoia was chosen as a distinguished school based on not only its high API score (946), but a new Resource Intervention program spearheaded by Dr. Franklin and Resource teacher funded by the school's parents association.
Sequoia Elementary is a Kindergarten through 5th grade school for 650 students with a waiting list of several hundred.
Sequoia provides a learning environment where educational excellence can be achieved through the mastery of academic standards in a 21st century setting, while instilling in each child a sense of responsibility, confidence, pride in accomplishment, and respect for self and community.