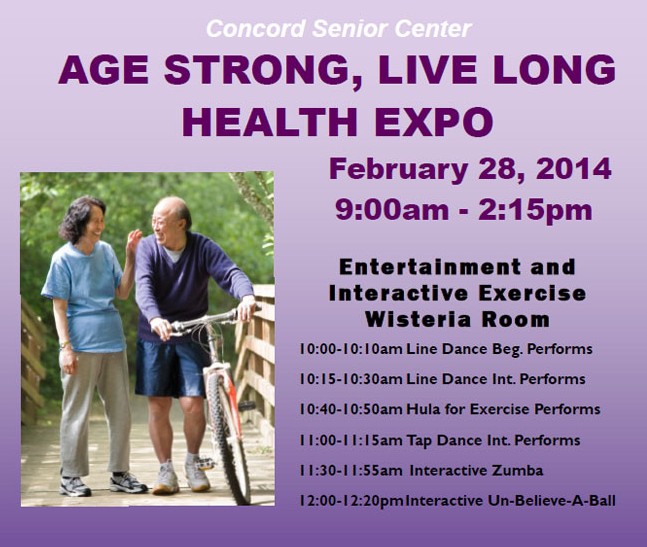 >
Promoting good health awareness and encouraging participants to assume responsibility for their own health are the goals of the Age Strong, Live Long Healthy Lifestyle Expo, a free one-day event set for Friday, Feb. 28 from 9 a.m. to 2:15 p.m. at the Concord Senior Center, 2727 Parkside Circle in Concord.
The expo will provide information about services, resources and products that benefit older adults, their families and caregivers. A free tote bag will be distributed to the first 500 attendees. Interactive group sessions will connect participants and local health care resources. Nurses earn continuing education credits for attending select presentations.
Sessions will offer participants the opportunity to sample a wide range of fitness activities, understand the basics of healthy eating, and learn how to maintain emotional and mental health. Sessions include Age Well, Drive Smart (California Highway Patrol), cooking demonstrations from Fresh Approach, Herbs for Health, Juicing, and two special presentations: Diabetes – Make Room for Sugar by Dr. Leonard Chuck and Hidden Symptoms of Parkinson's Disease by Jon Carlson.
Walgreen pharmacists will be available to answer questions about medications and possible interactions. 'Meet the Pharmacist' appointments are limited, so pre-registration is required by calling (925) 671-3320, ext. 1. Bring medications or a list including dosage.
Various health screenings provided by Scan Health, Diablo Clinical Research, Senior Helpers, and John Muir will include blood pressure, hearing, memory, balance, vein screenings and heel scans. Signups will be taken the day of the event. Many of the organizations, including the Volunteer Center of the East Bay, will be there to recruit volunteers.
For more information or to register for a $5 light lunch, call the Concord Senior Center, (925) 671-3320, and press 1.