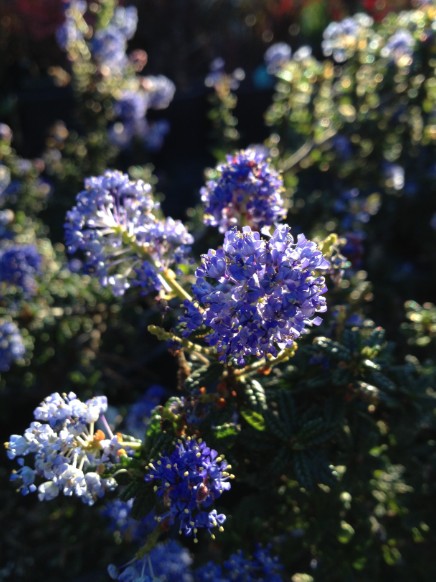 >
As our California landscapes and gardens evolve with the environment, people have to understand what the immediate needs of drought tolerant and California native plants are. These plants are installed by a different set of rules than the average Claycord garden lover is used to. Folks are swarming the nursery seeking drought tolerant plants and California native shrubs. They are surprised by the instructions for planting, so therefore this column is necessary.
The understanding of many that inquire about drought tolerant and California natives plants are that once they're installed they don't need water. This couldn't be further from the truth. Drought tolerant plants and California natives have shallow, root systems. They do need water; they just need less to be satisfied.
Most drought tolerant plants and California native shrubs haven't the ability to wilt. This is bad for the garden lover that doesn't pay attention to their installations. If too many days pass without water, it isn't uncommon to see a change in color of the plant's foliage. This change in color is a bad sign for the plant. More times than not, the changes in color is followed by the failing of the installation. Drought tolerant plants and California native plants don't bounce back after too much stress.
On the other hand, overwatering can also send a drought tolerant plant or California native plant into a tailspin. Unfortunately the signs of one of these types of plants receiving too much water are the same signs as if it was not getting enough water. In both cases, your installation will show signs of leaf wilt, and occasionally yellowing. Again, this stress may cause the plant to die.
See what I mean. But, understand, once established a drought tolerant, or California native plants becomes a landscape favorite. The selections are endless. They satisfy your needs for shade, privacy, foliage and bark interest, flowers, and are great for the bees, butterflies and wild birds. There care after they are established is minimal, to none. They don't require fertilizer; they thrive with low to no water, and if planted in the right spot, seldom need pruning.
A hint when installing either drought tolerant or California native plants is to not over-think, or over-loves your installations. First of all, purchase a healthy looking plant. Not necessarily on in full bloom, just one that is healthy, without any signs of dehydration. Install your selection as soon as possible. Don't wait…plant. To install you pretty much have to dig a basin shaped hole, toss in a couple handfuls of basic soil conditioner (do not use any soil with fertilizer built in), spread out your root system, bury and water in. It is that simple.
With natives and drought tolerant plantings, the earlier you install the better. Remember, we walk a fine line with over and under watering. Once spring warms and summer heats up, it will be far too easy to make watering mistakes. Watering mistakes with native and drought tolerant plants can cost you the life of the plant.
Some drought tolerant plants and natives are easier than others to grow. Several selections have become so common that you may not think of them as drought tolerant, or native. Ceanothus Julia Phelps and Yankee Point both are excellent selections of California Natives. They are commonly called California Lilacs, and they are entering into their bloom as we speak. Salvia Clevelandii is one of my favorite salvias. This native has fragrant, gray-green foliage and whirls of periwinkle flowers in the summer. Lantana is a very common woody groundcover, familiar to many by sight. Lantana is incredibly drought tolerant, and an exceptional summer through fall bloomer. Crape Myrtle and Smoke trees are excellent drought tolerant focal point small trees. Italian Buckthorn is a fast growing, dense evergreen that will grow to provide privacy.
There are many choices to make as we change our landscapes and gardens to be water-wise and environmentally friendly. We have to adapt with the environment. Change can be beautiful.
Happy Gardening.
Nicole Hackett is the Garden Girl at R&M Pool, Patio and Gardens, located at 6780 Marsh Creek Road in Clayton, 925-672-0207.
Nicole writes for the Clayton Pioneer Newspaper, and Claycord.com. She is also the Clayton Valley Garden Club 2012 President.

>