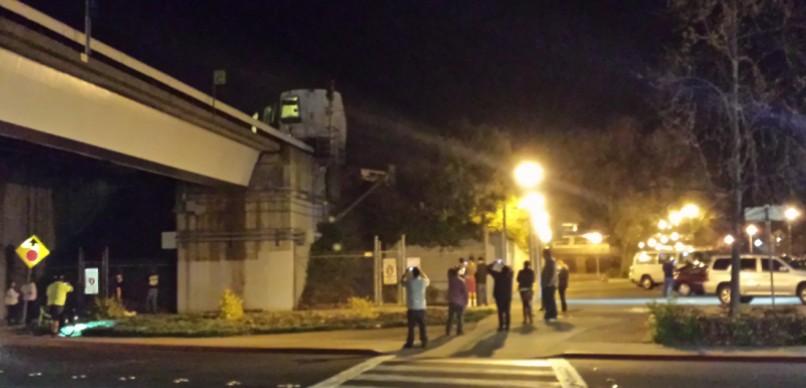 >
A derailment at the Concord BART station that ended with part of a BART train hanging over the edge of elevated tracks had passengers scrambling to get to their destinations this evening.
The train, which was out of service and heading south with no passengers on board, derailed at about 6:30 p.m. just south of the station platform, BART officials said.
Three cars on the train went off the tracks as it traveled over a switching mechanism, BART spokeswoman Alicia Trost said.
The train then came to a stop with its front edge skewed and hanging over the edge of the elevated tracks adjacent to a station parking lot.
With the train blocking tracks in both directions, BART discontinued service between Pleasant Hill and Pittsburg-Bay Point through the end of the night and likely into the weekend.
Roberta Lamark, 50, was heading back from work in Berkeley when BART officials notified passengers that there had been a derailment just ahead.
Lamark took a shuttle bus from Pleasant Hill to Concord and was waiting for more than an hour to be picked up by her husband to get home to Antioch.
"It was terrible, just chaos," she said. "You have to count your blessings though, because we were right behind it."
The incident drew dozens of curious residents to the scene. Davina Hunter lives nearby and came out with her dog to see the train after hearing media helicopters overhead.
"This just shows we need more upgrades," Hunter said. Susan Sunshine, 57, also lives nearby and joined the crowd at Concord to see the derailed train. She said she was considering having her family get on BART at Pleasant Hill now instead of Concord.
A train also derailed in the same area near the Concord station in March 2011 with 65 passengers on board, causing minor injuries to three people.
"It definitely is something we worry about," Sunshine said. BART crews with flashlights were inspecting the train and tracks tonight and Trost said delays could last into Saturday morning. BART is urging passengers to seek alternate forms of transportation.
One BART employee told passengers getting on and off the shuttle buses in Concord that the delays could even run into Monday or Tuesday, but declined to comment further when questioned by a reporter about her statement.
UPDATE: BART released the following message:
"Based on BART's initial assessment of the damaged train, track and third rail at the derailment site, repairs will most likely continue through the evening and all day and night tomorrow (Saturday February 22).
There will be no train service past Pleasant Hill in the Pittsburg/Bay Point direction for the remainder of tonight's revenue service. Buses will continue to serve the out of service stations until the end of revenue service tonight..
For Saturday service, BART strongly recommends that riders access the BART system at Pleasant Hill Station if they are traveling in the San Francisco/Oakland direction. Trains will be picking up and dropping off at Pleasant Hill.
For travel between Pittsburg Bay/Point and Pleasant Hill, BART will have the following service in place:
BART will operate a shuttle train between Pittsburg/Bay Point and North Concord.
Buses will operate between North Concord, Concord and Pleasant Hill Stations. Passengers can then board a train at Pleasant Hill."
RELATED STORIES:
photo credit: Robert Camacho