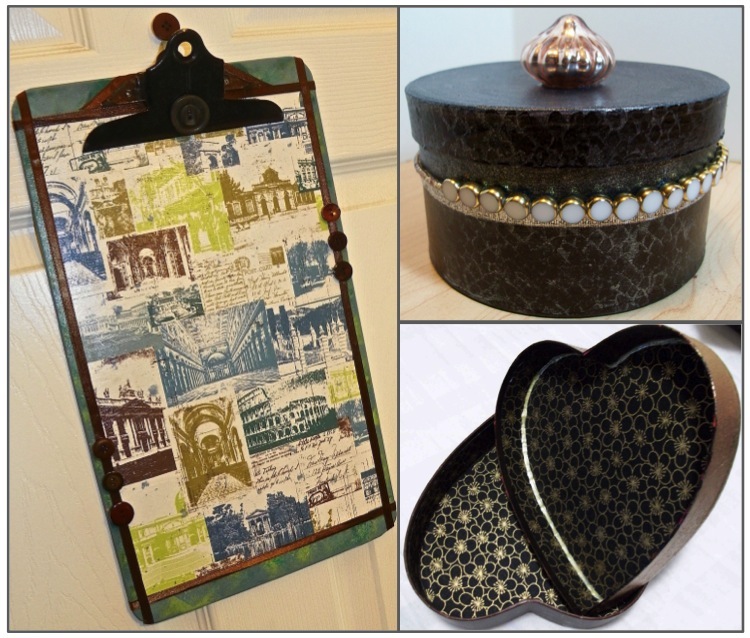 >
It's true what they say…one person's trash is another person's treasure. That's why I love upcycling! It's about more than just diverting consumer goods away from landfills; it's about turning things you might normally discard into something more useful or more beautiful.
Upcycling is where environmentalism and creativity collide. It's prevalent in architecture and manufacturing, home décor and fashion, as well as art and craft.
The term was first coined only 20 years ago. The concept, however, has been alive from an economical perspective for generations. When raw materials were scarce or unaffordable, communities built shelters with reclaimed materials, families stitched scraps of clothes into warm quilts, and people made toys and games out of found objects.
Some of my favorite things from childhood were upcycled creations my grandmother made for me – a set of Barbie furniture made from beer cans snipped into strips and curled into ornate designs. A fun and funky hat made with panels cut from soda cans that were knit together. A little pink and white purse that converted into a baby doll bassinet (remember Liddle Kiddles?) when you turned it inside out, crocheted on to the bottom half plastic dish soap bottle.
I'm not always riding on the upcycling wagon, I admit. I like a blend of Early American Garage Sale Style with New, Newer, Newest Vogue in my home. But over the years, I have really come to enjoy the creative challenge of altering small, everyday items to give them a new life with a new use.
With some paper, alcohol ink and decoupage medium, you can convert a dirty old clipboard into a cool new memo holder. Pretty beads and rubber stamping can turn a plain gift box into the actual gift itself. An empty candy box from Valentine's Day can be transformed into fanciful storage for jewelry and other treasures. And after you eat all those curiously strong mints, make that tin into a creatively cute gift card holder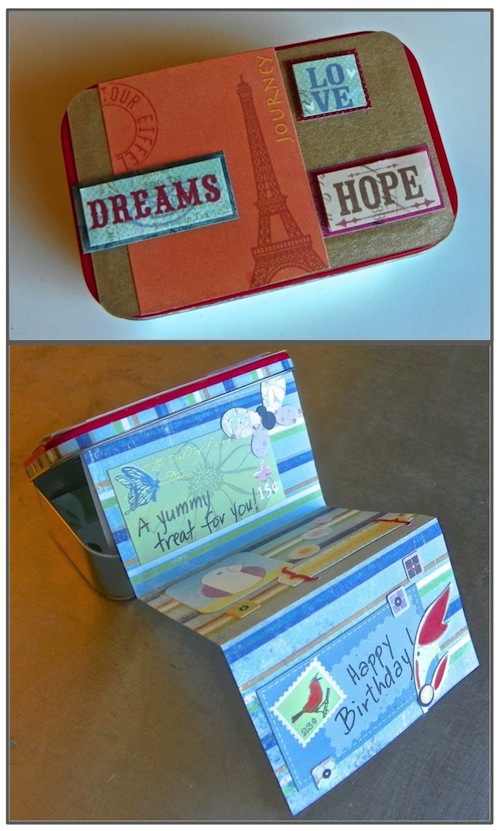 >
For even more ideas and inspiration, go to Pinterest and search on upcycled crafts…you will be amazed and left wondering about the question I often ask myself…just because we might be able to afford to buy new stuff, does that always mean we should?
EVENTS
Through February 28
Glover Group Art Exhibit
The Art Cottage, Concord
February 21
8:00 – 10:00pm
Miller & Sasser, Laura Benitez – music
Armando's, Martinez
 
February 21-22
My Son Pinocchio Jr. – Youth performance
Del Valle Theater, Walnut Creek
March 2
4:00pm
Kenneth Renshaw, violinist
Lesher Arts Center, Walnut Creek
March 2
4:30 – 10:00pm
Stand! Academy Awards Screening & Benefit
Brendan Theater, Concord
March 4 – April 8
Tuesdays, 4-6pm
Youth Acting/Improv Class
Concord Parks & Recreation
March 6-7
7:00pm
Willy Wonka Kids – Youth performance
Shadelands Auditorium, Walnut Creek
March 6-26
Photography & Ceramics Exhibi
Northgate High School
Shadelands Art Center, Walnut Creek
March 6 – April 24
Thursdays, 10-11am
Mixed Media Art Class
Concord Parks & Recreation
March 9
1:30pm
Crane Sculpture Unveiling
Brendan Theater, Concord
March 13-16
Sleeping Beauty – performance
Lesher Arts Center, Walnut Creek
Save the dates!
Creekside Artists Guild
Annual Show – March 21-23
Clayton Community Library
Contra Costa County Guild of Quilters
Annual Show – April 5-6
Centre Concord
Spring Artists' Market
May 2-4
Civic Park and Shadelands Auditorium, Walnut Creek
Spring Craft Fest
May 4, 2014
Bedford Gallery, Walnut Creek
Artistic DIY Craft Technique Classes
Thursday nights in May, 6-9pm
Mt. Diablo Adult School, Pleasant Hill
Creative Space is a weekly column written by Lisa Fulmer that features local art events and performances, inspiring interviews with creative movers and makers, DIY how-to projects for you and our home, plus fun craft ideas for the whole family. Creative Space will be on Claycord.com every Thursday at 2pm.

As an avid creative junkie living in Concord, Lisa wants to make it easier for our readers to find ways to embrace creativity and celebrate the local people who are making it happen. In addition to her work as a writer and a marketing consultant, Lisa is a mixed media artist and a project designer for the craft industry.

Visit her blog to see more of Lisa's own creative space.