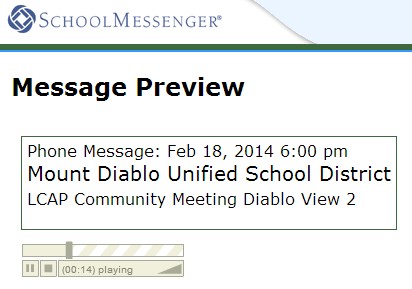 >
The Mt. Diablo Unified School District is in the process of creating a Local Control Accountability Plan using the new format released January 2014.
This plan combines the implementation of the general district program, the new Common Core Standards, and supplemental supports for the students.
The MDUSD plans to have a series of targeted outreach meetings to gather input and share information about this shift in accountability.
These meetings will be held in high school feeder patterns across the school district.
The scheduled meetings are as follows:
| | | |
| --- | --- | --- |
| School | Location | Date & Time |
| | | |
| Diablo View Middle School | Multi-Use Room | Feb. 20, 2014 – 6:30pm |
| Northgate High School | Little Theater | Feb. 25, 2014 – 6:30pm |
| Concord High School | Choir Room | Mar. 18, 2014 – 6:30pm |
| Mt. Diablo High School | Romaine Hall | Apr. 8, 2014 – 6:30pm |
| College Park High School | Library | May 20, 2014 – 6:30pm |