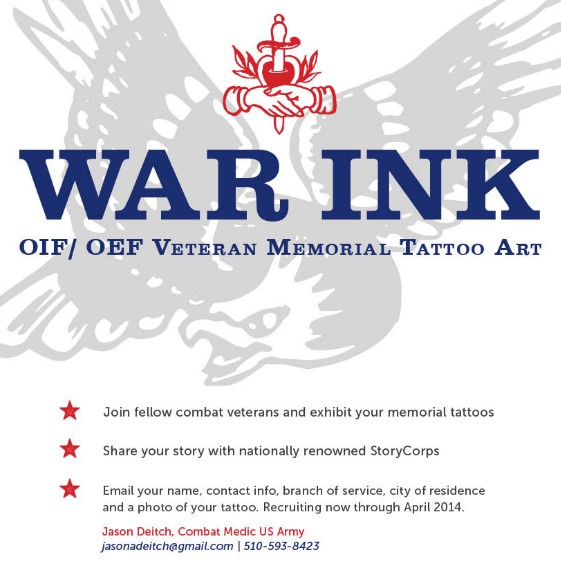 >
With nearly two million veterans in California and a generation of veterans returning from two wars, Contra Costa County Library has launched a timely and relevant project, War Ink, an online exhibit of Iraq and Afghanistan veteran memorial tattoo art.
The following information is from the Contra Costa County Library:
War Ink will launch on Veterans Day 2014, and represents a platform to explore the unfiltered record of war that veterans have documented on their body.
War Ink will consist of a multimedia exhibit of 18 veterans from throughout the state. Each veteran's story surrounding their tattoos will be recorded by nationally renowned StoryCorps' Military Voices Initiative, and their tattoos photographed by Shaun Roberts whose work has been featured in GQ, Juxtapoz, Hi-Fructose Magazine and Wired.com. The exhibit will be curated by Jason Deitch, the project's scholar, as well as a former combat medic and sociologist, who co-created War Ink with Chris Brown, Contra Costa County Library's Project Director.
"This project represents both a unique collaboration for cutting edge and relevant cultural programming as well as a powerful context for the authentic and honest voice of veteran culture…reaching into and genuinely interacting with the communities veterans are struggling to rejoin," said Deitch.
War Ink will be made possible through an ever growing collaborative that includes StoryCorps, grant-makers Cal Humanities, Pacific Library Partnership, and a cooperative group of innovative library systems who are exploring the creative potential for the library field: Alameda Free Library, Contra Costa County Library, Mountain View Library, Oakland Public Library, Sacramento Public Library, San Diego County Library, San Jose Public Library, San Mateo County Library, Santa Clara County Library District, and Santa Cruz Public Libraries. Founder of StoryCorps Dave Isay says, "We are delighted to be partnering with Contra Costa County Library to celebrate the diverse and vibrant stories of California's veteran and military community. In doing so, we remind one another of our shared humanity, strengthen and build the connections between people, teach the value of listening, and weave into the fabric of our culture the understanding that every life matters."
War Ink was made possible through two grants awarded to Contra Costa County Library. Cal Humanities first saw the potential of the project and awarded the library a $10,000 Community Stories grant to supplement StoryCorps' commitment to record the stories of 18 veterans for the Military Voices Initiative project. Pacific Library Partnership then more than doubled the projects resources with a $15,000 Innovation and Technology Opportunity Grant, allowing War Ink to expand beyond Contra Costa County.
Together, these grants created the opportunity for audacious and collaborative cultural programming, addressing a relevant social topic. Cathy Sanford, Contra Costa County Library's Interim County Librarian adds, "War Ink will help a whole generation of veterans, who are returning home to Contra Costa County and the greater Bay Area, to share their story with the families in their community. I believe that in tattoo art we've found a common ground for both veterans and civilians to explore, and my hope is that War Ink will lead to a greater appreciation for the strengths and service of these courageous men and women."
Veterans interested in the project are encouraged to contact Jason Deitch directly at jasonadeitch@gmail.com or 510-593-8423.