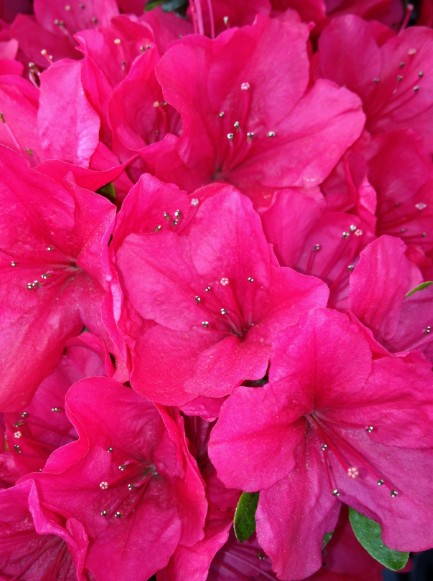 >
Live, flowering plants are often given as gifts of love and appreciation on Valentine's Day. Rose bushes, hydrangeas, azaleas, tulips and pink jasmine are some of the flowering plants that were spotted in floral departments throughout Claycord. These floral quality shrubs and bulbs are purchased in full bloom. They come dressed to impress, wrapped in colorful foils and adorned with a fancy bow.
These gifts become living objects of affection. They are placed on the table or counter to be gazed upon and enjoyed for days and sometimes weeks. Then it begins to happen…the flowering plants decline in health. Perhaps the foliage is beginning to yellow and drop or the unopened buds are turning black and dying. This cycle isn't your fault, it just happens. Floral quality plants were forced to flower by professional growers who fertilized constantly and raise their plants in climate controlled environments. It is almost impossible for normal plant lovers to simulate the same perfect growing situation and feeding regimen given by the professions. All too often, these gifted plants end up so stressed from life in the house that their recipient eventually tosses the plant into the compost.
To keep your Valentine happy while in the home, you'll have a few steps to follow. First of all, please remove the decorative foil or wrap from the bottom of your gifted plant. The decorative wrapping holds water in, preventing your plant from properly draining when watered. Saturated soil mixtures can grow fungus, and may drown your plant. The growing medium used by floral companies has a spongy texture, and can get soggy fast. Without the proper drainage your plant will show sighs of stress. Water your florist forced gift once a week, or less.
Keep your gifted plants in a bright room, where the temperatures aren't too warm, or too cold. Climate consistency will keep your plant happier.
After enjoying your flowering plant inside for couple of weeks, you'll have to plant it outside. Plants thrive in different exposures depending on their needs. Roses are some of the easiest plants to care for. If you received a miniature rose for Valentine's Day install your gift in a very sunny location. It would e happy in a container or in the ground. When planting, mix a premium planting mix in the soil with the rose. Work the roots of the rose apart, removing most of the nursery's growing medium. Once planted water thoroughly. Wait a week for the installation to adjust to its new conditions, they fertilize with a water-soluble fertilizer.
Were you given an azalea shrub or tree for Valentine's Day? If so, these acid loving plants need a morning sun, or filtered light location. They too would benefit from the use of a premium soil conditioner when planted, and the removal of the growing medium. Gently work roots loose, taking care not damage too many roots. Azaleas have sensitive root systems. Water thoroughly and fertilize a week after planting with a water-soluble acid fertilizer.
If you are planting a small pot of tulips or daffodils, you are probably just planting the foliage. Find a sunny location for either of these plants. A tip when planting is to sprinkle some bone meal in the hole, then some planting mix and lastly the tulips.
Pink Jasmine was sold during the days before Valentine's Day trailing on hoops. This plant is a vine and would make a great garden introduction if planted against a fence, or over an arbor. Some may even consider planting the Pink Jasmine in a container and letting it trail along an obelisk for a whimsical look.
Hydrangea bushes that were forced to bloom on Valentine's Day will look the worst once planted. Hydrangeas throughout Claycord are only pushing leaf this time of year. Once you install your gift into the shade of your landscape or container, prepare yourself. Your plant may continue to lose leaves and possible a couple of stems while it acclimates to our climate in Claycord. As our days get warm and spring begins to heat up, your hydrangea will begin to put out new leaves and stems. It may or may not bloom this summer.
It is possible to transition gifted plants happily from the home to the landscape. These plants will always be cherished and their recipients remember who gave it to them and the occasion.
Happy Gardening.
Nicole Hackett is the Garden Girl at R&M Pool, Patio and Gardens, located at 6780 Marsh Creek Road in Clayton, 925-672-0207.
Nicole writes for the Clayton Pioneer Newspaper, and Claycord.com. She is also the Clayton Valley Garden Club 2012 President.

>