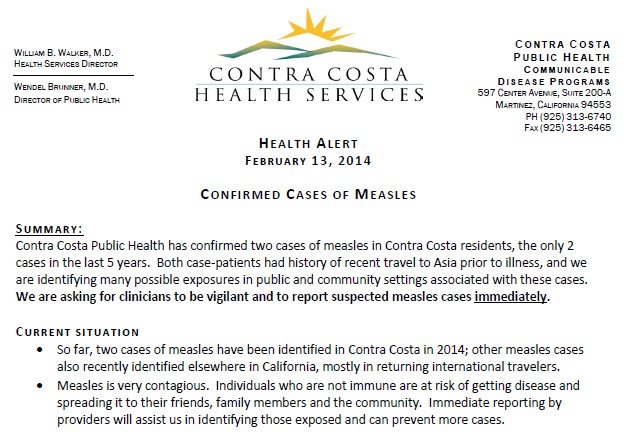 >
Contra Costa Public Health has confirmed two cases of measles in Contra Costa residents, the only 2 cases in the last 5 years. Both case-patients had history of recent travel to Asia prior to illness, and they are identifying many possible exposures in public and community settings associated with these cases.
The Contra Costa Public Health Department is asking for clinicians to be vigilant and to report suspected measles cases immediately.
CURRENT SITUATION
So far, two cases of measles have been identified in Contra Costa in 2014; other measles cases also recently identified elsewhere in California, mostly in returning international travelers.
Measles is very contagious. Individuals who are not immune are at risk of getting disease and spreading it to their friends, family members and the community. Immediate reporting by providers will assist us in identifying those exposed and can prevent more cases.
BART also issued the following information regarding a possible exposure on one of their trains late last week:
BART and Contra Costa Health Services (CCHS) are urging riders to seek medical attention if they exhibit any symptoms of measles after CCHS learned that a person infected with the contagious disease traveled on BART in the East Bay last week.
The Centers for Disease Control and Prevention (CDC) says measles has been virtually wiped out in the United States thanks to vaccinations but the disease still poses a risk to those who have not been vaccinated.
The person infected with measles traveled between El Cerrito del Norte and Downtown Berkeley stations on Tuesday, February 4 through Friday, February 7 between 8 to 10 am and in the afternoon/evening commute hours.
The measles virus is transmitted through the air and the virus can live in the air for up to two hours. BART uses industrial-strength disinfectant to clean its trains at the end of the line during the day and each night.
According to CDC, "the symptoms of measles generally begin about 7-14 days after a person is infected, and include:
         Measles Rash
         Blotchy rash
         Fever
         Cough
         Runny nose
         Red, watery eyes (conjunctivitis)
         Feeling run down, achy (malaise)
         Tiny white spots with bluish-white centers found inside the mouth (Koplik's spots)
For more information about measles, visit  cchealth.org Contra Costa County residents can also call 925-313-6740. City of Berkeley residents can call 510-981-5377. Additional information is available at www.cdc.gov
Please click on the picture shown above for all the information from Contra Costa Public Health.