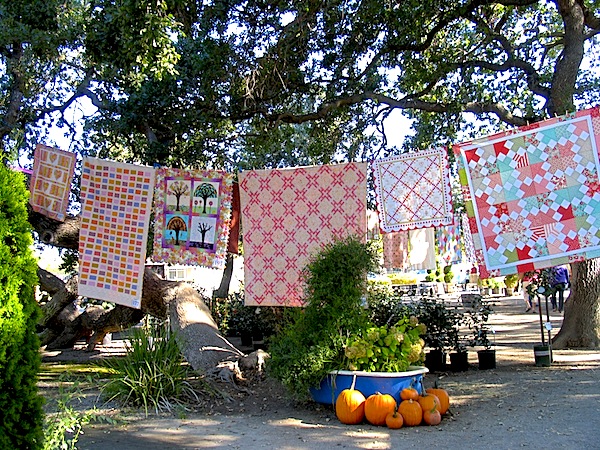 >
See How We Sew is a quilting and sewing blog run by a group of designers  – Laura, Darra, Jennifer, and Pati – who live in the Concord/Pleasant Hill area. With many years of experience, they are each prolific in their quiltmaking, with far too many quilts between them to even count!
Each of these women has developed her own sense of creative style for making quilts. Laura loves using fun, non-traditional fabrics in traditional settings, Darra enjoys creating collage-style quilts, Jennifer loves contemporary patterns, and Pati is working on modern pieces inspired by the quilt world's rich history.
They came together to form this blogging collective as a way to inspire all kinds of fabric enthusiasts, while also highlighting each of their individual entrepreneurial efforts such as teaching classes, authoring books, designing patterns and selling beautiful quilts.
As with so many people in the Bay Area quilting community at large, these women share a common bond in their passion for fabric arts. "It's right up there with breathing," says Darra, when asked how quilting enriches her life. Quilting gives Jennifer an outlet for her creative energy, and Laura appreciates the family time that working from home as a quilt designer has afforded her. For Pati, it's all about the zen – she feels calmer and more centered when she's in her sewing studio.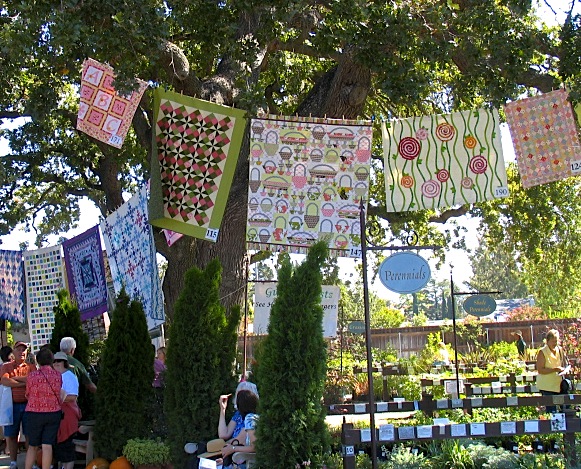 >
Since its inception three years ago, See How We Sew has grown its readership to more than 15,000 visits per month from fans and followers all over the world. The blog is updated twice a week with new tutorials, book and product reviews, interviews, free patterns and opportunities for quilters and sewers to collaborate on group projects. Beginners and sewing pros alike will find something enjoyable to read or try for themselves, as each of the designers bring their own unique voice to the content they share.
In March, See How We Sew will launch an online Quilt-Along for readers to create the same quilt with their own spin – similar to a Block of the Month program, but with some creative twists. Other regular post topics include "First Quilt, Last Quilt," which highlights the earliest and most recent work of a well-known quilter, and their annual inspirational photo album filled with inspiring images from nature, architecture and the world of textiles.
EVENTS
February 14 and February 28
9:00am – 12:30pm
Quilter's Choice Workshop with Laura Nownes
The Cotton Patch, Lafayette
February 15
8:45pm
Keon Polee, comedian
Knight Stage 3 Theater, Walnut Creek
February 16
7:30pm
Contra Costa Chamber Orchestra
Hofman Theater, Walnut Creek
February 19
7:00pm
Speaker series – Discovering a Sense of Place
Gardens at Heather Farm, Walnut Creek
February 21
9:00pm
MamaLuke – rock band
Vinnie's Bar & Grill, Concord
February 24 – March 10
6:30 – 9:30pm
Vietnamese cooking class
Walnut Creeks Parks & Rec
Through February 28
The African American Experience – Biographies
Diablo Valley College Library
Save the dates!
Creekside Artists Guild
Annual Show – March 21-23
Clayton Community Library
Contra Costa County Guild of Quilters
Annual Show – April 5-6, 2014
Centre Concord
Spring Craft Fest
May 4, 2014
Bedford Gallery, Walnut Creek
Now through March
Art Exhibit – Retrospective
Jennifer Perlmutter Gallery, Lafayette
Creative Space is a weekly column written by Lisa Fulmer that features local art events and performances, inspiring interviews with creative movers and makers, DIY how-to projects for you and our home, plus fun craft ideas for the whole family. Creative Space will be on Claycord.com every Thursday at 2pm.

As an avid creative junkie living in Concord, Lisa wants to make it easier for our readers to find ways to embrace creativity and celebrate the local people who are making it happen. In addition to her work as a writer and a marketing consultant, Lisa is a mixed media artist and a project designer for the craft industry.

Visit her blog to see more of Lisa's own creative space.