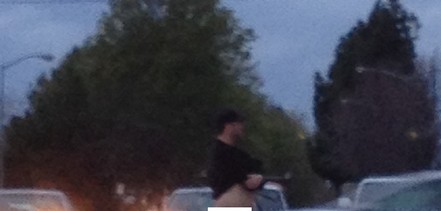 >
Yeah, this happened (sorry for the picture, click on it for the FULL view)….
Driving early on Friday morning (about 7:30 AM) I was about to turn onto Ygnacio Valley Rd. from Clayton Rd., coming from Clayton. I witnessed a man pacing back and forth in the intersection. I'll let the picture tell you the rest.
We're checking to see if the man was arrested. If so, we'll update you when the information becomes available.
Thanks to Tyler Klock for the report & the picture.
You can click on the picture to see the pants on the ground.