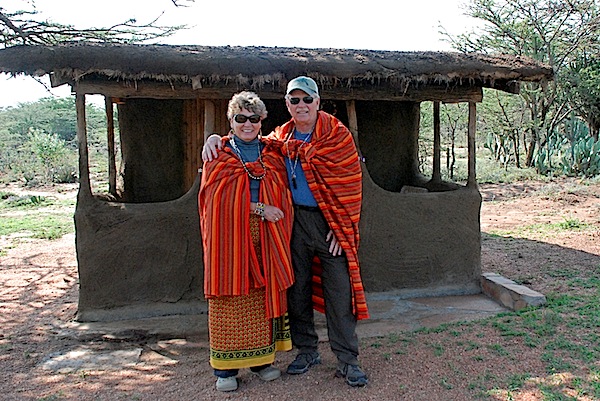 >
Robert Aquinas McNally has authored (or coauthored) nine nonfiction books and four poetry chapbooks. Many of his poems have been published in anthologies and journals.
Bob and Gayle, also a published poet, live in the Concord area. Their photo above was taken while they were at Maji Moto, Kenya in 2011. They were dressed to attend a triumphal parade of boys and warriors for a coming-of-age ceremony in this Maasai village.
Bob was kind enough to take a break from his current research for his next book to answer of few questions I had about his writing.
What style of writing do you enjoy the most?
Two kinds — nonfiction (essentially journalistic writing) and poetry. Poetry is my older and deeper love, yet I still find that for certain topics and approaches I need to use nonfiction.
What kind of impact do you hope your poetry will make on your readers?
Good writing makes people realize they know — both intellectually and emotionally — things they didn't know they knew. Easily the best feeling I've had as a writer comes when I am reading a poem in public and, as the last line ends, the audience gasps audibly. Something unstated has passed between poet and readers through the medium of the poem. That is magic.
How do you balance writing for work versus writing for pleasure?
When I did make my living as a freelance writer, separating work I wanted to do from work that simply brought in money could be challenging. Still, I used to say that all writing is writing. And the truth is that I learned a great deal about writing short and direct from doing advertising copy, for example.
Do you think writing can be therapeutic?
Writing is always a way of making sense of the world, of rendering ourselves, our kind, and our surroundings knowable. That pays a great many dividends.
I'd like to write more poetry, but I worry that it's not worth reading. Any tips?
Give yourself the permission to write badly, then offer the work to people who know what they're doing and pay attention to the feedback. Maybe 10% of a poem is inspiration. The rest is sharp focus and hard work. So keep writing, and writing, and writing…
You and Gayle are both poets – any competition there?
Gayle and I have been together for almost 29 years. Gayle is easily my best reader. If she tells me something is working, or not, I can trust her judgment. We have but one simple rule for avoiding competition: we never enter the same poetry contest in the same year.
Here is one of his poems that was just published in the January 2014 issue of Spillway, a poetry magazine.
Starnosed Mole
Think of dining on earth
and finding it delicious. Think
of it drizzling over delicate nostril
flutes, warning-wire whiskers, sleeked
face-fur. Think of hands shovel-big
and gum-pink, digging and pushing, testing
for the tenderest, tastiest morsels.
The next meal lies in front
of you, you can go back
for dessert anytime, you lack
even a word for famine,
feasting daily on God's bottom-
most shadow, the one
only the blind can see.
 — Robert Aquinas McNally
EVENTS
Now through March
Art Exhibit – Retrospective
Jennifer Perlmutter Gallery, Lafayette
February 7 – 16
Hamlet
Diablo Valley College, Pleasant Hill
February 7 – March 1
Guys and Dolls
Diablo Theater Company
Lesher Center for the Arts, Walnut Creek
Monday, February 10
7:00pm
Book Club
Clayton Community Library
Tuesday, February 11
7:30pm
Be My Valentine – California Symphony
Lesher Center for the Arts, Walnut Creek
Thursday, February 13
2:00 – 3:00pm
Piano Ensemble Recital
Diablo Valley College, Pleasant Hill
Creative Space is a weekly column written by Lisa Fulmer that features local art events and performances, inspiring interviews with creative movers and makers, DIY how-to projects for you and our home, plus fun craft ideas for the whole family. Creative Space will be on Claycord.com every Thursday at 2pm.

As an avid creative junkie living in Concord, Lisa wants to make it easier for our readers to find ways to embrace creativity and celebrate the local people who are making it happen. In addition to her work as a writer and a marketing consultant, Lisa is a mixed media artist and a project designer for the craft industry.

Visit her blog to see more of Lisa's own creative space.