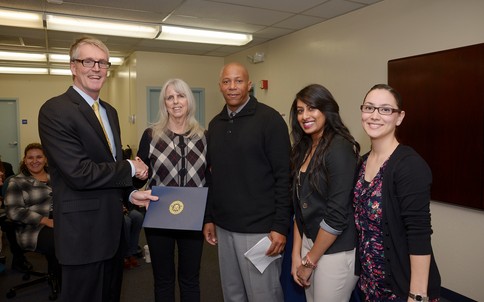 >
Bay Area Women Against Rape (BAWAR) was selected as FBI's nominee for their work in raising awareness and providing direct assistance to victims of child prostitution and human trafficking throughout the Bay Area.
"The work done by Bay Area Women Against Rape has made a positive, impressionable impact in our community, specifically to our youth," said Johnson. "We are proud to recognize BAWAR for their selfless service of bridging communication voids left by victimization. We value their continued partnership with our crimes against children squad, as well as the Bay Area Child Exploitation Task Force."
Established in 1971 as the nation's first rape crisis center, BAWAR sought to address the problem of sexual assault with two goals: to establish a place where rape and incest survivors could receive the quality counseling and advocacy they need and to provide community education regarding sexual assault issues. Additionally, they provide 24-hour comprehensive services for survivors of sexual assault and their significant others.
"It is truly an honor to collaborate and work side by side using this victim-centered approach for the purpose of making our community a safer place for kids to thrive," said Patrick Mims, BAWAR's director for the Sexually Exploited Minor (SEM) program.
In 2013, BAWAR served 228 sexually exploited children and 108 adults involved in exploitation. The agency as a whole has been credited with 960 new clients with crisis intervention services, 128 clients with free in-person counseling, 143 clients with free hospital or police accompaniment, 163 clients with advocacy services, and 203 educational programs to over 12,000 children and adults.
Over the past three years, BAWAR worked with FBI and multiple state and local law enforcement agencies during Operation Cross Country, which is an annual law enforcement effort to rescue children forced into prostitution.
The award was created in 1990 as a way for the FBI to publicly recognize the achievements of individuals and organizations that make extraordinary contributions to crime and violence prevention and education in their communities.