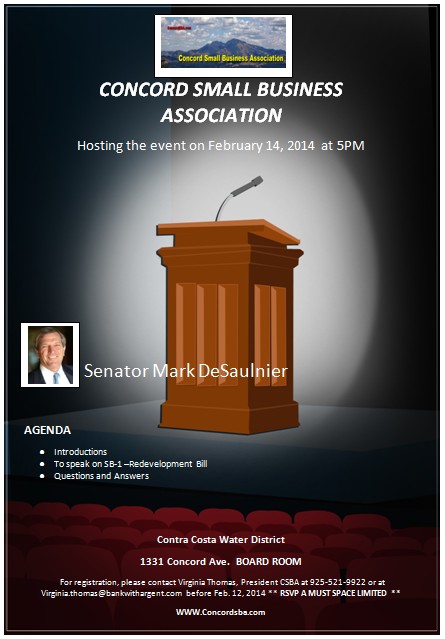 >
The following information is from the Concord Small Business Association:
The Concord Small Business Association (CSBA) is proud to announce that State Senator Mark DeSaulnier (D-Concord) will be making a special appearance discussing SB-1 at 5pm, February 14th at the Contra Costa Water District Board room on 1331 Concord Ave. in Concord.
SB-1 which DeSaulnier co-sponsored with Senator Darrell Steinberg D-Citrus Heights is a part of the State of California's new Redevelopment Plan that succeeds the program which Governor Jerry Brown abolished when he took office in 2010. The legislation passed both the Assembly and Senate in 2013 but was not given to the Governor for signature as there were parts of SB-1 that he felt needed to be changed.
In his appearance at the special CSBA event Senator DeSaulnier, who has declared his candidacy to replace retiring George Miller in Congress this year, is speaking about the implementation of SB-1 and its effects on job creation in small business. This bill if passed is expected to have a great influence on future Project Development Areas (PDA's) which are being created in virtually all cities throughout Contra Costa and the rest of the State.
SB-1 provides guidelines that are intended to control size, composition, participants, and the public funding process for these PDA's which involve residential, business, and public transportation. In the Bay Area these projects are concentrated chiefly around Downtown areas and close-by to BART Stations. The 680 Hwy, 24, and 4 corridors are the places that are intended to be developed in Contra Costa under current plans of The Association of Bay Area Governments (ABAG) and the Metropolitan Transportation Commission (MTC).
Senator DeSaulnier's appearance before the CSBA is widely anticipated as SB-1 has been much talked about and has been subject to heated debate between various factions both pro and con about its implementation. As an organization of small businesses that are dedicated to having their voice heard at all levels of government, the CSBA is pleased that Senator DeSaulnier has chosen them to host a forum on this important issue.
Attendees at the February 14th event are encouraged to arrive early as there are only about 110 seats available at the Water Department facility.
For registration, please contact Virginia Thomas, President CSBA at 925-521-9922 or at Virginia.thomas@bankwithargent.com before Feb. 12, 2014