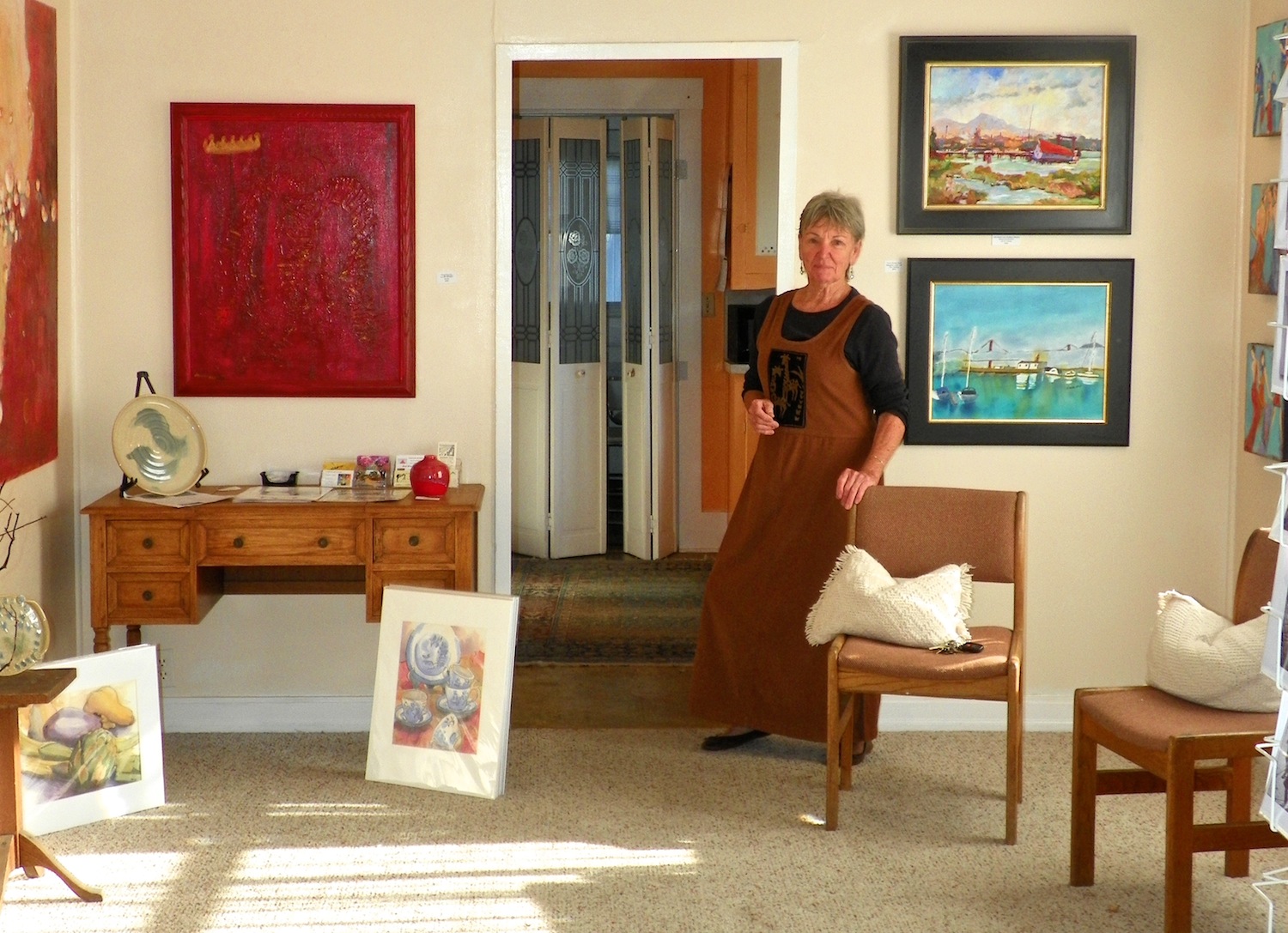 >
The Art Cottage
A couple of years ago, Frogard Butler bought this shotgun-style 1920s bungalow with a vision…to turn it in to an art gallery and studio for the Concord community to embrace as our own. She even spells it "aRt Cottage" to emphasize the 'R' so it seems even more like our cottage.
This little 2-bedroom house, located just a couple blocks from Todos Santos Plaza, was originally built as a shack where laborers would spend the nights during a fruit harvest. Sometime in the 1940s, a kitchen and extra rooms were added to the back for permanent residency. Frogard has made several upgrades, but kept plenty of the home's original charm, such as the glass doorknobs, the clawfoot tub, and the bright colors on the walls.
The Art Cottage is full of fun, funky and eclectic style. In warmer months, the front porch is beautifully canopied by a huge wisteria tree. The front yard is full of plants and sculpture, including a ceramic rendition of Frogard's own head that doubles as the gallery's suggestion box. The side yard and back yard are set up for classes, and all the furniture inside was either donated or gathered from garage sales. Each and every room in the house is a separate mini-gallery—even the bathroom and kitchen!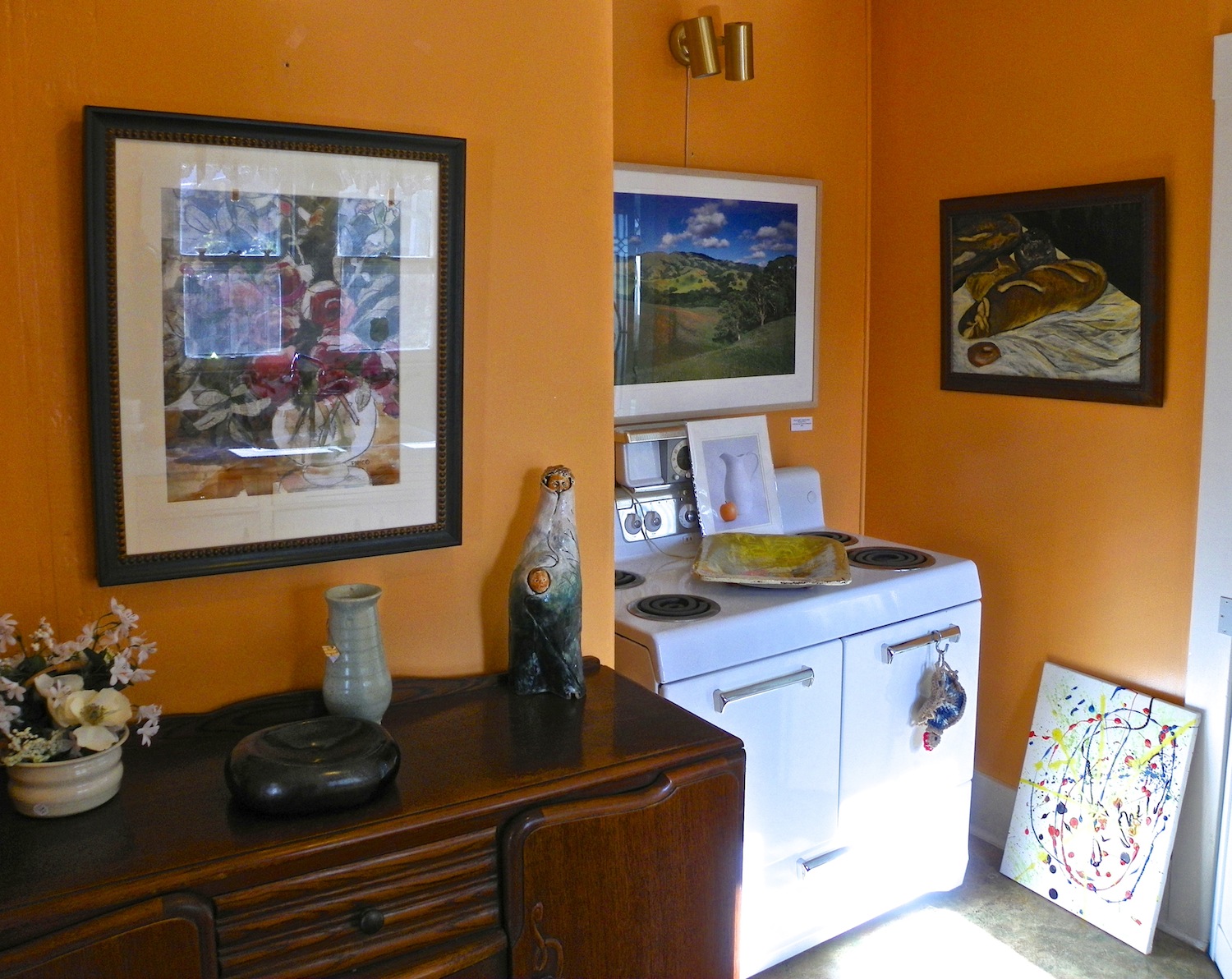 >
Every month, a new group show or a new collection of art based on a theme is featured. All the work is for sale, from paintings and sculptures to prints and greeting cards.
Frogard has lived in Pleasant Hill for about forty years and worked as a pre-school director and educator. She is a watercolor artist and ceramicist, and in 2011 she received an Arts Recognition Award from the Arts and Culture Commission of Contra Costa County.
She teaches art classes at the gallery for small groups of children or adults, as well as for people with developmental disabilities. Girl Scout and Boy Scout troops can work with her at the gallery to earn their art merit badges, and she also hosts an after-school program called "Wacky Wednesday" where kids can create to their hearts' content.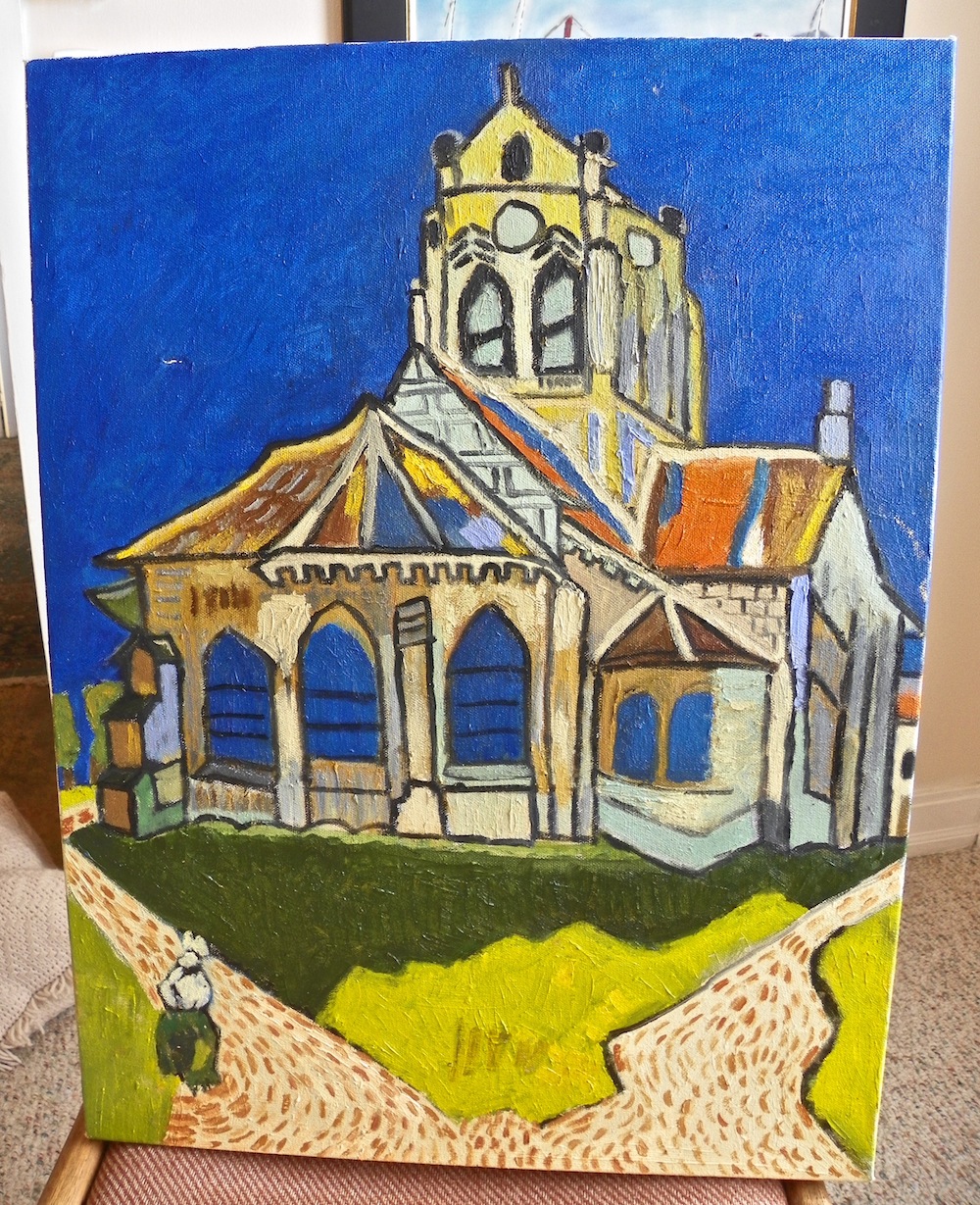 >
I especially enjoyed seeing this oil painting by Meiling Liu, one of the developmentally disabled women who come to paint at the Art Cottage each week. Her work-in-progress is inspired by Van Gogh's Church at Anvers.
Click here to view more of the pictures I took of the Art Cottage with some of the pieces in the January exhibit, featuring the Lamorinda Arts Alliance.  The February show will feature work from The Glover Group, a guild of painters who studied under California artist, Pam Glover.
Events
Friday, January 31 through February 15 - "The Book of Liz" performances – Onstage Repertory Theater, Martinez
Saturday, February 1 2:45pm – Pops & Broadway concert – Lesher Center for the Arts, Walnut Creek
Saturday, February 1 8:00pm – Mariachi Divas concert – El Campanil Theater, Antioch
Monday, February 3 7:00-9:00pm – Lynn Quinones and Jim Caroompas, singer/songwriters – Armando's, Martinez
Wednesdays, February 5 through March 26 7:00-8:00pm – Music Therapy class – Centre Concord
Saturday, February 8  and Sunday, February 9 12:00-9:00pm – Make a Valentine – kid's crafts – Smile Tu, Walnut Creek
Saturday, February 8 2:00-5:00pm – The Glover Group art exhibit reception – The Art Cottage, Concord
Creative Space is a weekly column written by Lisa Fulmer that features local art events and performances, inspiring interviews with creative movers and makers, DIY how-to projects for you and our home, plus fun craft ideas for the whole family. Creative Space will be on Claycord.com every Thursday at 2pm.

As an avid creative junkie living in Concord, Lisa wants to make it easier for our readers to find ways to embrace creativity and celebrate the local people who are making it happen. In addition to her work as a writer and a marketing consultant, Lisa is a mixed media artist and a project designer for the craft industry.

Visit her blog to see more of Lisa's own creative space.