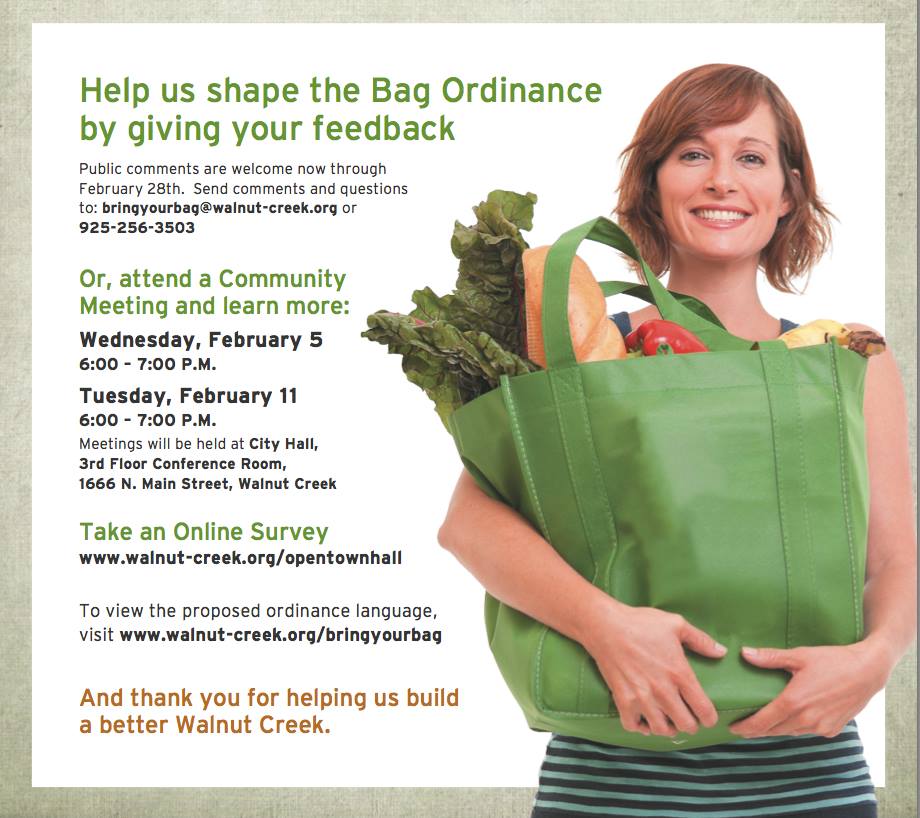 >
The City of Walnut Creek is proposing a plastic bag ordinance, and they'd like you to share your thoughts by taking an online survey at http://walnut-creek.org/opentownhall or by attending a public meeting on Wednesday, Feb. 5th from 6:00PM – 7:00PM or Tuesday, Feb. 11 from 6:00PM – 7:00PM at City Hall, 3rd Floor Conference Room, 1666 N. Main St., Walnut Creek.
The following information on the proposed ordinance is from the City of Walnut Creek:
The City of Walnut Creek is considering an ordinance to prohibit the distribution of single-use carryout bags in all retailers (except restaurants and non-profit charitable thrift stores). Under the ordinance, all grocery and retail stores in Walnut Creek would no longer provide single-use carryout plastic bags. Stores may sell paper bags for a minimum of 10 cents for each bag. Protective plastic or paper bags, without handles, for items such as meat, fresh produce, dry-cleaned clothes and prescription medications will be allowed. Consumers will have the option to bring their own reusable bags or pay for recycled paper bags.
As currently proposed, customers purchasing food with WIC and calfresh 'food stamps' can be provided with a 40-percent post-consumer recycled content paper bag at no cost at checkout. We encourage these residents to bring their own reusable bags to the store. Call or send an email to bringyourbag@walnut-creek.org to request free reusable bags (while supplies last).
How Walnut Creek Will Benefit
The City of Walnut Creek aims to see a significant reduction in litter in our neighborhoods and streets, improve water quality of our creeks and bay, and conserve valuable resources by passing this ordinance.
Click on the link or the picture above to take the survey.