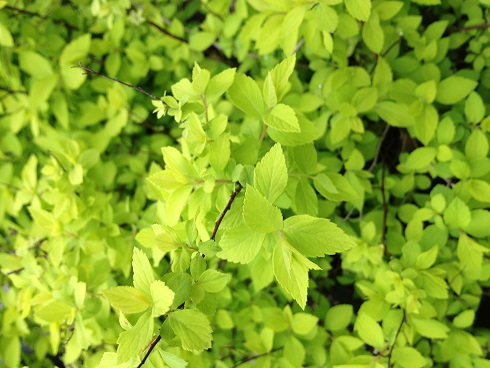 >
The spirea, citrus and azaleas all received some TLC in the garden this week. Rain or not, the plants need tending to. The stronger they are the better they'll be able to weather the pending stresses of heat and drought.
Spirea is a woody, deciduous shrub that has both interesting foliage and an attractive flower. During the first warm days of spring, delicate leaves emerge from a mass of woody stems. Depending on the variety of spirea, its foliage can be anything from medium green to chartreuse yellow, or gold tipped with copper. About a month after the leaves emerge, clusters of pink or white flowers top the tips of the stems.
Spirea enjoys full morning sun, and bright afternoon shade. It is a hardy shrub that is tolerant of poor soil conditions. Once planted Spirea becomes drought tolerant. This week we spent time preparing this deciduous shrub for spring's growth surge. First we pruned each shrub back removing 2/3 of last year's growth. After pruning, each Spirea was given a dose of Perc-u-late Plus mixed with water. Perc-u-late Plus is a soil penetrate type product. It helps the water that is used get down to the roots rather than running off the soil before it's taken in. No fertilizer is given at this time.
Many of the deciduous shrubs out there are drought tolerant. If the summer is too stressful, and adequate water isn't provided, deciduous shrubs have the ability to go dormant, and wait for a safer time to regrow.
Citrus needed some attention earlier than usual. Every tree and shrub was given a combination of Citrus Food, and an additional dose of iron. Most citrus fertilizers already contain iron, but the percentage doesn't satisfy the needs, so additional doses are necessary, especially after fruit. If your citrus still has young fruit trying to ripen, give your citrus a dose of 0-10-10 and a dose of iron. The first number in the sequence of a fertilizer represents nitrogen. It's the nitrogen that stimulates leaf and stem growth. You don't want to feed a plant right before bloom with a product that contains too much nitrogen. The nitrogen can make the plants drop their buds, and also encourage the new growth to cover up the blooms you have waited so long for.
Aphid and scale activity has already begun with these warm days. If needed, you may have to spray with Neem Oil to help control the problem.
Azalea leaves turned shades of bronze and yellow after the freezing temperatures in December. They too need a helping hand. Each plant was thoroughly watered then given a feeding with 0-10-10 fertilizer and a small dose of iron.
We have to give our landscapes and gardens the tools they need to remain strong during times of stress.
Happy Gardening!
Nicole Hackett is the Garden Girl at R&M Pool, Patio and Gardens, located at 6780 Marsh Creek Road in Clayton, 925-672-0207.
Nicole writes for the Clayton Pioneer Newspaper, and Claycord.com. She is also the Clayton Valley Garden Club 2012 President.

>