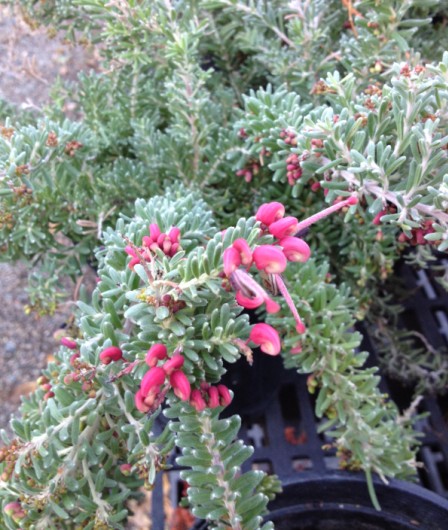 >
There will be lots of garden and landscape uncertainty this growing season. It is hard to talk about installing new plants when you don't know how much water will be available to establish your new installations. There are gardening challenges approaching us this year. It is time to get acquainted with perennials, shrubs and trees that many not be familiar, but are responsible, water-wise installations.
Finding plants that thrive with less or infrequent watering is fairly easy. There are more selections than one column can hold.
This week, concerned folks have been coming in to the nursery looking for drought-tolerant plants for various applications in their landscapes. A handful of them were looking for ground covering plants for dry hillside areas.
This is where we'll begin.
There are a few go-to plants that we suggest for such an application. They have been the same plants that we have been suggesting for years. We have always been of the mindset that folks should install plants that thrived with less or infrequent watering.
Ground covers are plants that sprawl along the ground. The types of ground covers that tend to be more successful on a hillside application are the ones that grow outwards from one root-ball. These types of plants are happier growing with drip-system, or bubblier type watering.
Grevillea is an absolute favorite evergreen family of plants that comes to us from Australia. This plant family has many members. Some of them are ground covers while other can grow as large as trees. All of the members of the Grevillea family are extremely drought tolerant. The ground cover selections worth planting are Grevillea lanigera. Three-standout selections within the lanigera category are the 'Coastal Gem', 'Mount Tamboritha', and 'Low Form'. All of these are considered Wooly Grevilleas, meaning their leaves aren't poky. If you have had experience with Grevillea, you may know some of the foliage isn't too friendly. This is not the case with the lanigera selections. Each of these selections will mound and reach as it matures to 1-2' tall and 4-6' wide. Grevillea begins to bloom in the autumn and flowers through spring. The blossoms are extremely hummingbird friendly. Once established, Grevillea becomes very water-wise, in-fact heavy irrigation may kill this plant in the summer. This evergreen isn't a fan of fertilizer with high phosphorus, so avoid fertilizing. If you feel that your Grevillea lacks nutrients, work soil conditioner around the installation in the spring.
Correa is another ground cover that comes our way from Australia. This family of evergreens is commonly called Australian Fuchsia. It gets its name from the shape of the flower. Correa has become more available the past few years at nurseries and garden centers. Correa 'Dusky Bells' has a carmine pink flower, 'Ivory Bells' has an off-white bloom, and 'Wynn's Wonder has a pink flower on a variegated foliage. The 'Wynn's Wonder' selection does appreciate more shade than the other two mentioned varieties. The Australian Fuchsia begins blooming in fall and flowers through spring. Through the years Correa can mature to 3' tall and 5' wide.
Ceanothus is a large family of California native evergreens that thrive in our sun and soil. Ground cover selections are easy to find and very successful in the landscape. Ceanothus has a sprawling growth habit and spring through early summer bloom that makes it a very desirable installation. Selections to consider installing are 'Yankee Point' with medium blue flowers, 'Carmel Creeper' with light blue flower clusters, and 'Squaw Carpet', which is a very low growing selection. Ceanothus is handsome and very desirable. It's an excellent introduction to a dry hillside. Varieties can stretch over 5' wide, taking up serious space.
Tuecrium majoricum is a ground cover that grows tight to the ground like a mat. The gray foliage is small allowing less water evaporation. During the summer months small clusters of purple flowers cover every inch of the plant. Tuecrium majoricum is a small scale groundcover. It should be planted near the bottom of a hillside so it can be better appreciated. Tuecrium majoricum is also awesome planted on flat ground.
Myoporum parvifolium is a flat, evergreen ground cover selection. Tiny green leaves line this plants arms that reach along the soil. In the summer months simple white flowers cover the myoporum branches. This selection only grows a couple inches tall, and each plant can cover 4-5'. Myoporum parvifolium isn't a long lived ground cover. It is great to use it to cover your ground until the other foundation plants mature.
When planting during stressful times, you'll need to go to lengths to make sure your installation have a fighting chance. Amend each hole as you plant using a soil conditioner that is made up of natural ingredients like earthworm castings, bat guano, and mushroom compost. Avoid using soils that have too much wood or any fertilizer built into them.
Planting should be done with a starter fertilizer. These products are widely available and any brand will do, you should just use them to get your plant's roots thinking about growing.
Water new installations using a three week watering focus to begin to establish the plant. This means water each day the first week of installation. Don't rely on your system this first week, rather hand or hose water to make sure your plants are thoroughly wet. The second week after installation, water the plants every other day. The third week, you should water every third day. This focus watering will help the plants get going.
There are many plants out there that will survive periods of drought. These types of plants will be our topics through the next weeks.
Happy gardening.
Nicole Hackett is the Garden Girl at R&M Pool, Patio and Gardens, located at 6780 Marsh Creek Road in Clayton, 925-672-0207.
Nicole writes for the Clayton Pioneer Newspaper, and Claycord.com. She is also the Clayton Valley Garden Club 2012 President.

>