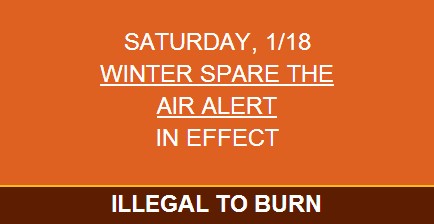 >
A Winter Spare the Air alert has been issued for Saturday, banning wood burning in the Bay Area for the 28th time this season.
The Bay Area Air Quality Management District issued the alert because of a high-pressure weather system in the region that is expected to allow air pollution to build up to unhealthy levels on Saturday.
"The weather is unfortunately returning to this winter's typical stagnant pattern, trapping fine particulate pollution in an unhealthy haze close to the ground," BAAQMD executive director Jack Broadbent said in a statement.
On days when the air district issues Winter Spare the Air alerts, wood burning is banned both indoors and outdoors in the Bay Area, with exemptions for homes that rely on wood burning as their lone source of heat.
Wood smoke is the major source of air pollution in the Bay Area during the winter and is particularly harmful to children, the elderly and those with respiratory issues, according to the air district.
The most recent alert issued by the district before Saturday's was for Jan. 4. The 28 alerts issued are the most since 2006-07, when the district issued 30 alerts during the season that runs from Nov. 1 to Feb. 28.
Those who violate the wood-burning ban must take a wood smoke awareness class or pay a $100 fine, with higher fines for subsequent violations, according to the air district.
The daily burn status can be found online at www.sparetheair.org or by calling (877) 4-NO-BURN.
© 2014 by Bay City News, Inc. — Republication, Rebroadcast or any other Reuse without the express written consent of Bay City News, Inc. is prohibited.