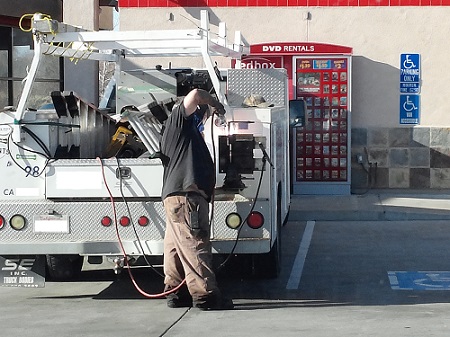 >
The "Water Cooler" is a feature on Claycord.com where we ask you a question or provide a topic, and you talk about it!
The "Water Cooler" will be up Monday-Friday at noon!
Today's question:
A Claycordian sent this photo, along with the following message….
Hi Claycord! I was at a gas station in Concord the other day and while I was pumping gas, this guy starts welding something on the back of his truck. He was working on something for the car wash. I didn't really feel too safe with sparks flying everywhere.
If I'm not supposed to even talk on my cell phone while pumping gas, why can this guy weld something just a few feet away from all the pumps?
This was at about noon on Saturday.
I was just wondering what other Claycordians thought about this. Is it really dangerous, or something I shouldn't have worried about?
Claycordians, what's your opinion?
Talk about it….