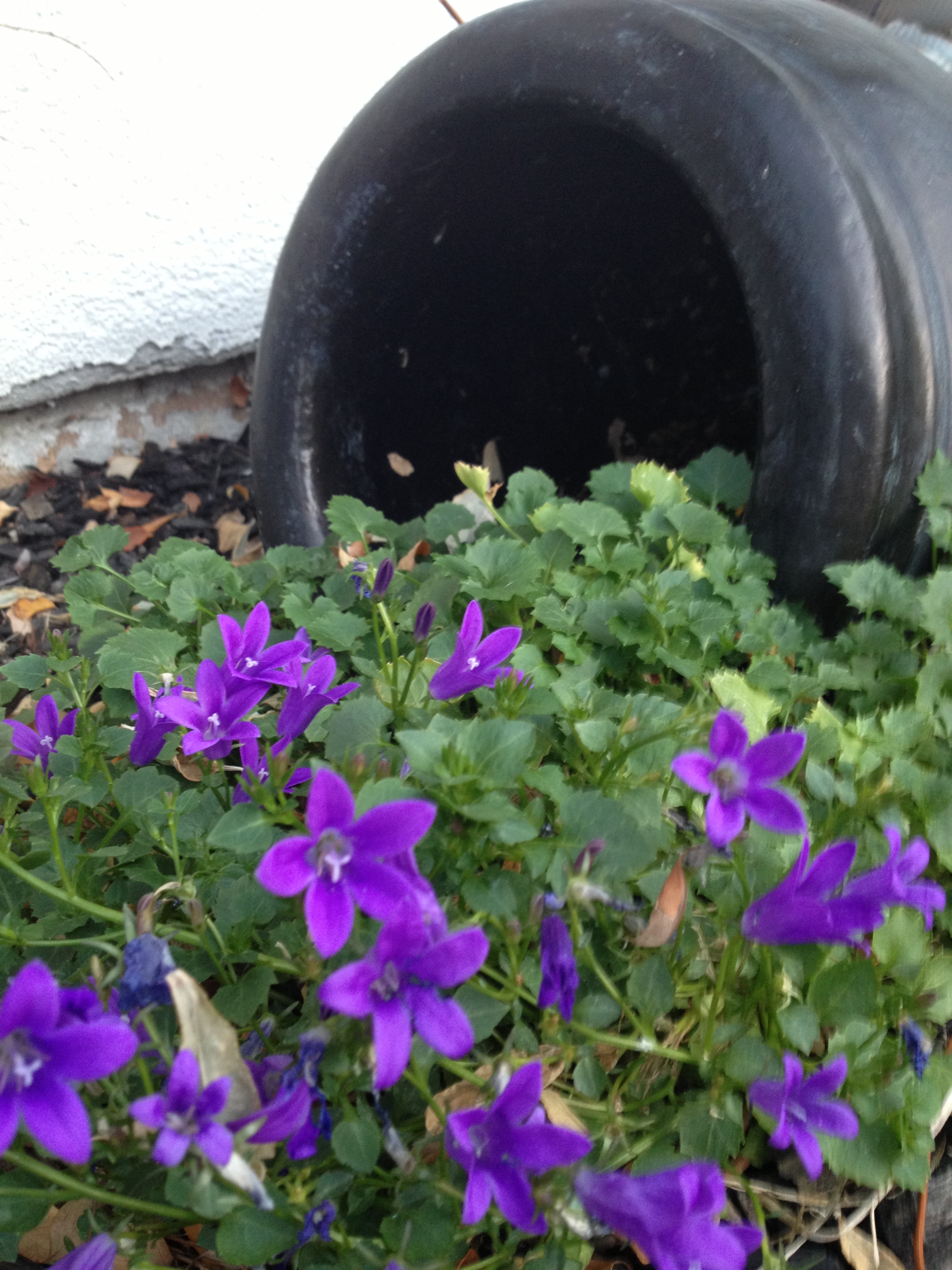 >
Campanula poscharskyana has a very long, mouthful of a name. But, its awesome in any Claycord garden or landscape. When describing this evergreen to a potential planter I always call it "campanula p-word". With a name this long you might just scare the planter away if you tell them the whole botanical name.
Campanula poscharskyana is a tough evergreen perennial with purple flowers shaped like stars. During the spring and summer piles of purple flowers cover this evergreen's deep green scallop-shaped foliage. Campanula poscharskyana thrives in full sun with regular water, or morning sun with occasional water.
A great attribute of this campanula is how it grows. It creates mounds of green foliage that hugs the soil. This campanula is great surrounding stepping-stones and bases of birdbaths and fountains. As it matures, the campanula takes on a look that you may expect from moss. However, unlike moss, the Campanula isn't picky about where it's planted or how it's treated. It pretty much is happy wherever it's installed.
Campanula poscharskyana is best planted from 4" pots or 1-gallon containers. You may find this evergreen perennial in smaller packages, but you have a higher risk of failure when transplants are too small.
Campanula poscharskyana roots as it goes. Shallow roots crawls along the soil. This evergreen does much better when planted where it is watered by sprinklers or hand watered, rather than watered by drip system. Drip system irrigation is too isolated of a watering, and the Campanula's roots won't spread.
When installing Campanula poscharskyana, give this evergreen the best start you can by planting with a premium soil conditioner or planter mix. If you are planting a 1-gallon container of this evergreen, consider splitting the root-ball to create 2 plants. Splitting campanula is easy. First remove the plant from the plastic container. Then you can use your hands and gently tear from the foliage in to the soil and pull vertically apart into two separate pieces. Or if you'd rather cut the plant right in half from the top where the foliage is, down through the root to the bottom of the roots.
Campanula poscharskyana is a must have in any Claycord garden or landscape.
Happy Gardening.
Nicole Hackett is the Garden Girl at R&M Pool, Patio and Gardens, located at 6780 Marsh Creek Road in Clayton, 925-672-0207.
Nicole writes for the Clayton Pioneer Newspaper, and Claycord.com. She is also the Clayton Valley Garden Club 2012 President.

>