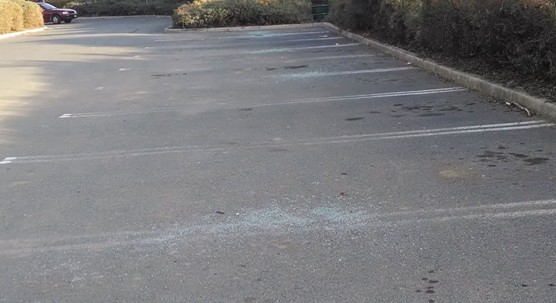 >
This picture was sent to us on Thursday morning by a Claycordian who counted five broken windows in the parking lot of Lime Ridge Open Space on Montecito Dr. in Concord. (at Ygnacio & Cowell).
This is an ongoing problem in this parking lot and also in the Lime Ridge parking lot on Treat Blvd. We're being told police have stepped up patrols in the lots, but unfortunately, the burglaries have continued.
If you plan to park in the lot, make sure nothing valuable is in your vehicle, and also make sure to take any garage door openers and registration papers out of your vehicle before you leave for your hike. Just put them in your pocket or in the trunk (as long as the trunk can't be unlocked from the inside of the vehicle).
The lot is visible from Ygnacio Valley Rd., so if you're driving by and you see somebody smashing a window or spot something else suspicious, call 9-1-1 or the Concord Police non-emergency line at 925-671-3220.