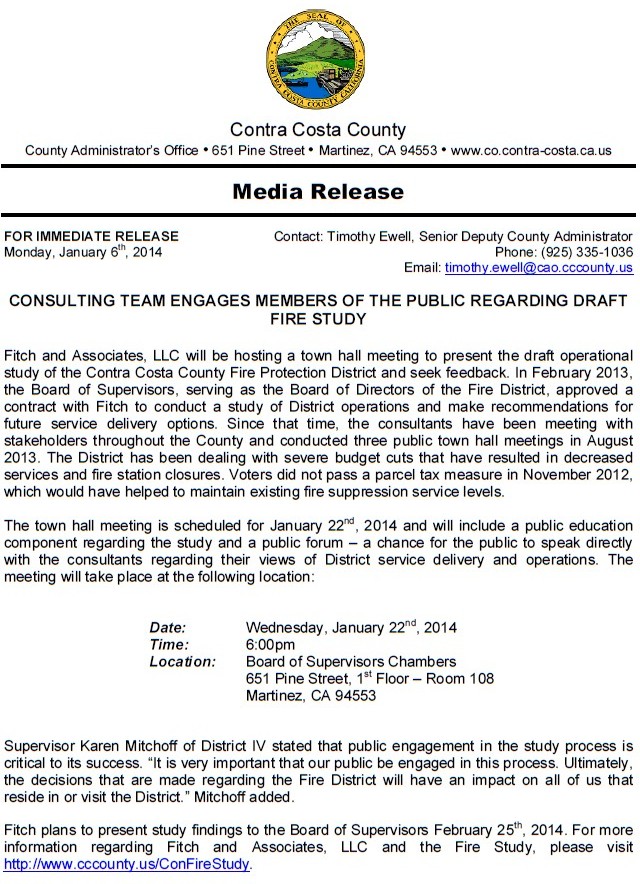 >
A town hall meeting will be held in Martinez to discuss a study of the Contra Costa County Fire Protection District.
Fitch and Associates, LLC will be hosting the town hall meeting to present the draft operational study of the Contra Costa County Fire Protection District and seek feedback from the public.
In February 2013, the Board of Supervisors, serving as the Board of Directors of the Fire District, approved a contract with Fitch to conduct a study of District operations and make recommendations for future service delivery options.
Since that time, the consultants have been meeting with stakeholders throughout the County and conducted three public town hall meetings in August 2013. The District has been dealing with severe budget cuts that have resulted in decreased services and fire station closures. Voters did not pass a parcel tax measure in November 2012, which would have helped to maintain existing fire suppression service levels.
The town hall meeting is scheduled for January 22, 2014 and will include a public education component regarding the study and a public forum – a chance for the public to speak directly with the consultants regarding their views of District service delivery and operations.
The meeting will take place at the following location:
Date: Wednesday, January 22nd, 2014
Time: 6:00pm
Location: Board of Supervisors Chambers
651 Pine Street, 1st Floor – Room 108 in Martinez
Supervisor Karen Mitchoff of District IV stated that public engagement in the study process is critical to its success. "It is very important that our public be engaged in this process. Ultimately, the decisions that are made regarding the Fire District will have an impact on all of us that reside in or visit the District." Mitchoff added.
Fitch plans to present study findings to the Board of Supervisors February 25th, 2014. For more information regarding the fire study, please click HERE.