This beautiful weather has been hard to ignore. I find myself searching for ways to garden. I decided to spend the afternoon tending to a perennial bed. Perennials are a safe family of plants to prune this time of year. The Rudbeckia hirta a.k.a. Gloriosa Daisies or Black Eyed Susan were looking spent with their dark, dry leaves and seedy flower heads. They would be my first pruning of the New Year.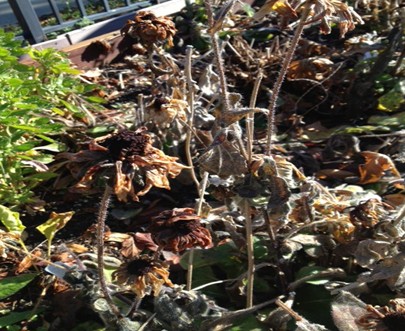 >
As the flowers of Black Eyed Susans dry the former flower heads turn to seeds.  The first cuts I make are to remove the dried seed heads.  The tips of each stem are cut and the seeds are put to the side for spreading another day.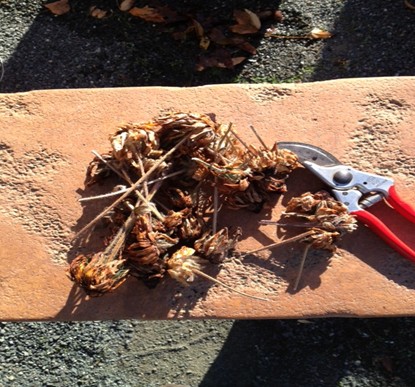 >
My second sets of cuts are made deep within the perennial. Remove about 2/3 of each stem.  You will begin to expose fresh, green leaves at the base of the perennial.  With your gloved hand, lightly rake the soil removing leaf debris from beneath the Black Eyed Susan.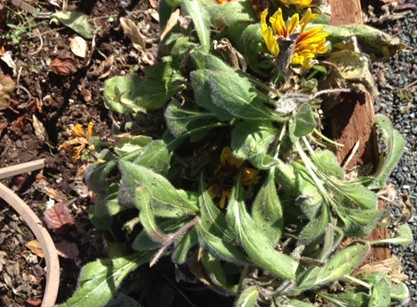 >
When you are finished with your cuts, your plant may look something like the Rudbeckia pictured above.  This perennial now looks healthier and a bit tidier.  Once finished we will not fertilize.  It is way too early to encourage any growth.
Take the dried seed heads from the flowers that you cut off and break them apart in your hand letting the seeds fall to the soil.  During the late spring you should see signs of germination.
Rudbeckia is a hardy family of sun loving perennials.  They are incredible water-wise perennials that make fabulous cut flowers.  Wild birds love to nibble on the Rudbeckia's foliage, while bees and butterflies enjoy the blossoms.
If you are interested in introducing Rudbeckia to your garden begin to look for plants in May.  Lucky garden lovers will be able to find this garden gem in 6-packs and 4" pot selections.
Happy Gardening.
Nicole Hackett is the Garden Girl at R&M Pool, Patio and Gardens, located at 6780 Marsh Creek Road in Clayton, 925-672-0207.
Nicole writes for the Clayton Pioneer Newspaper, and Claycord.com. She is also the Clayton Valley Garden Club 2012 President.

>