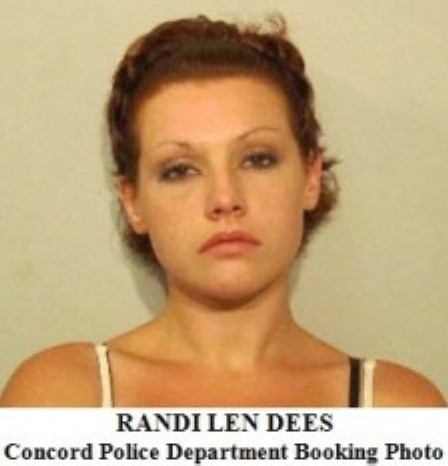 >
A 22-year-old Richmond woman accused of aiding and abetting the brutal 2011 murder of a popular young Benicia native in her Concord home was sent to prison for at least 15 years after an emotional hearing in a Martinez courtroom on Thursday.
Judge Barbara Zuniga sentenced Randi Len Dees in exchange for the defendant's no contest plea today to a second-degree murder charge stemming from the killing of 21-year-old Shelby Elizabeth Barnes on Oct. 24, 2011.
Her murder devastated her family and friends and rocked the small, close-knit community of Benicia where she spent most of her life, relatives and friends told the court today.
At the time of her death, the Benicia High School graduate was living at a house on Glenside Court in Concord that had been owned by her father before it went into foreclosure. In October 2011, she let 23-year-old Donald Waldecker and Dees, his girlfriend, stay in the house with her, according to prosecutors.
During a preliminary hearing last year, police testified that Waldecker said he killed Barnes because he wanted to steal the deed for the Concord home, even after he was informed that the property already belonged to the bank.
Deputy District Attorney Jason Peck said Waldecker told Dees that he planned to hurt Barnes. On Oct. 24, he carried out that plan with the help of Dees and another co-defendant, then-17-year-old Jonathan Harriel.
Peck said Dees watched as Waldecker went into the victim's bedroom where he struck her. She then saw Barnes "lying defenseless on the ground, Peck told the court.
Waldecker asked Dees to help him tie the victim up, and she handed him duct tape and helped him duct tape her body and mouth, according to prosecutors.
Then, he said, "She watched as Waldecker and Harriel wrapped Shelby in a rug and carried her down to the basement where she was murdered."
Authorities say Waldecker bludgeoned Barnes with a table leg before slitting her throat.
Police arrested the Concord man and Dees in Richmond three days after the killing.
Both defendants and Harriel, who is being tried as an adult, were charged with murder even though Waldecker is believed to be the only defendant to physically assault the victim, according to prosecutors.
During her interviews with police, Dees repeatedly said that she never thought Waldecker would kill Barnes.
Peck said Dees participated in the murder "under duress," since Waldecker had threatened to kill her as well.
Those factors, as well as her limited criminal record, led prosecutors to negotiate a plea deal, he said.
Before she was sentenced, her mother and sister spoke in her defense, saying that acts of violence against Dees' own family members growing up had scarred her and that it was unlike her to intentionally harm anyone.
"I don't know why she's here," her mother, Linda Dees-Wright told the court tearfully. "I love her, and she's not a monster."
Her attorney, Paul Feuerwerker, said Dees was "a very naïve person who had a severe drug problem" at the time of Barnes's murder but was "far from a monster."
Throughout the hearing, Dees dabbed at her face with tissues.
Speaking through her attorney, she offered an apology to the roughly two-dozen relatives and friends of the victim who appeared in court today.
"Ms. Barnes was truly an innocent victim who did not deserve what happened to her," she said in the statement.
But it was statements from the victim's friends and relatives that took up most of Thursday's hearing.
Barnes's family members and friends described her as a vivacious, well-liked young woman who, despite her diminutive size at 4 feet 10 inches tall, had a warm personality that made everyone feel welcome.
Some of those who spoke said it may have been Barnes's friendly, open nature that led her to associate with Dees and Waldecker.
"She always found the good in everyone," Barnes's sister, Sara Royer, said.
The victim's mother, Charlene Barnes, recalled how her daughter's face had been so badly bashed in during her killing that the mortuary holding her body would not let her see it.
"When she was taken from us, my life was also violently shattered," Barnes told the court. "The fact that her demise was so violent deepens the pain even more."
Both Waldecker and Harriel are awaiting trial for their roles in the killing.