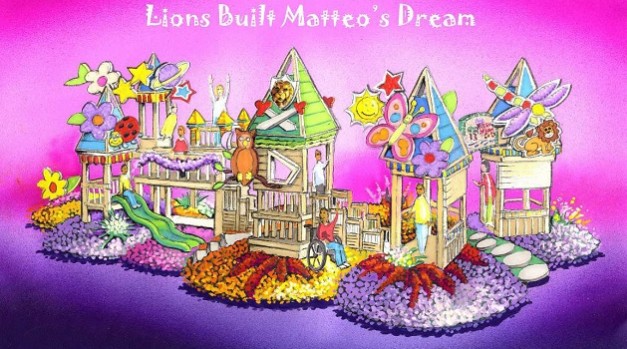 >
A Concord playground designed for children with disabilities will be featured on a float in this year's New Year's Day Rose Bowl Parade in Pasadena.
Concord resident and playground visionary Liz Lamach will ride in the parade float along with Christian Campbell, a 17-year-old Concord boy with cerebral palsy, and his mother Kausha King.
Lamach was behind the 2007 building of Concord's "Matteo's Dream" playground, a play area developed so that children such as her severely disabled son Matteo could have somewhere to safely play.
Matteo, who was wheelchair-bound and blind, has since passed away, but other children have been able to benefit from the structure that accommodates disabled youth.
More than 2,000 volunteers helped construct Matteo's Dream in a two-week period in May 2007 and the city provided the site at 2050 Olivera Road and $232,000 in park funds.
Community service group Lions Club International selected the design of Matteo's Dream for their float in the 125th Annual Tournament of Roses Parade.
The theme of the parade is "Follow Your Dreams." Lion's Club members raised more than $500,000 to help build the
playground in 2007.
City officials and the Concord Police Association raised funds to send Christian and his mother to Pasadena for the parade, and Christian was honored by Assemblywoman Susan Bonilla, D-Concord, earlier this month.
According to Lions Club International, Christian, his mother and Lamach arrived in Southern California Monday to help decorate the float for the parade.
Stanford is playing Michigan State at the Rose Bowl this year.
RELATED STORY: Assemblywoman Bonilla Honors "Matteo's Dream" Founders, Concord Boy who will Ride in the Rose Bowl Parade