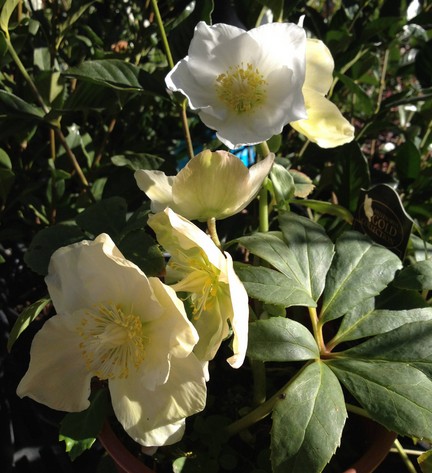 >
So far our Claycord winter has been anything but typical. The past two weeks of warm sunny days have thrown many of our deciduous, flowering shrubs and evergreen perennials into a tailspin. They just don't know how to behave. The weather is confusing for both our plants and us. How are we, the gardeners supposed to care for our plants? What should we do or not do?
While surveying the nursery I have spotted new leaves emerging on several shrubs that should be at rest. This could be a problem. Growth activity like we are seeing now is usually seen in the earliest days of March, not before the New Year. Deciduous shrubs and trees need their winter's sleep. What do we need to do? At this point, I'm not going to do any thing. I will not fertilize these confused shrubs, and I will absolutely not cut one branch. I'll just ignore what is happening and hope for some real winter weather to arrive.
January is the time to tackle a handful of garden-landscape chores. Those of you that grow fruit trees such as peaches, nectarines and apricots have some spraying to do. Apply copper fungicides now. Copper fungicides have been used for many years to control various diseases including peach-leaf curl. Controlling peach-leaf curl takes a series of copper fungicide applications. You'll apply now, next month and again right before your flower buds open. If the weather stays this warm, and you see flower buds swelling, you might not get three sprays in. Please follow all package directions, including safety precautions.
There has been lots of talk in the garden world concerning beneficial microbes. The idea is that we should try to cure disease within our plants from the inside. Products have been hitting the shelves the past couple of years. The use of beneficial microbes is becoming more popular. We see it sold alone in envelopes, or built into premium soil conditioners and potting soils. If you would like to give beneficial microbes a chance look at your local garden center for Actinovate.
Actinovate is a concentrated powder that can be used now as a soil drench around the drip line of deciduous shrubs and trees or as a foliar spay once the problematic shrub or tree is in leaf. It is also useful, and recommended for vegetable gardening.
Blue hydrangeas should have another application of Aluminum Sulfate now.
If you are looking for winter flower color in your garden consider planting Hellebores. These cold hardy, water-wise evergreen perennials are beginning to show their buds. Hellebores are often called Christmas Rose, or Lenten Rose. White, cream, yellow, rose, wines, single or double blooms. Hellebores are fabulous. They thrive in a shady Claycord garden.
Happy Gardening.
Nicole Hackett is the Garden Girl at R&M Pool, Patio and Gardens, located at 6780 Marsh Creek Road in Clayton, 925-672-0207.
Nicole writes for the Clayton Pioneer Newspaper, and Claycord.com. She is also the Clayton Valley Garden Club 2012 President.

>