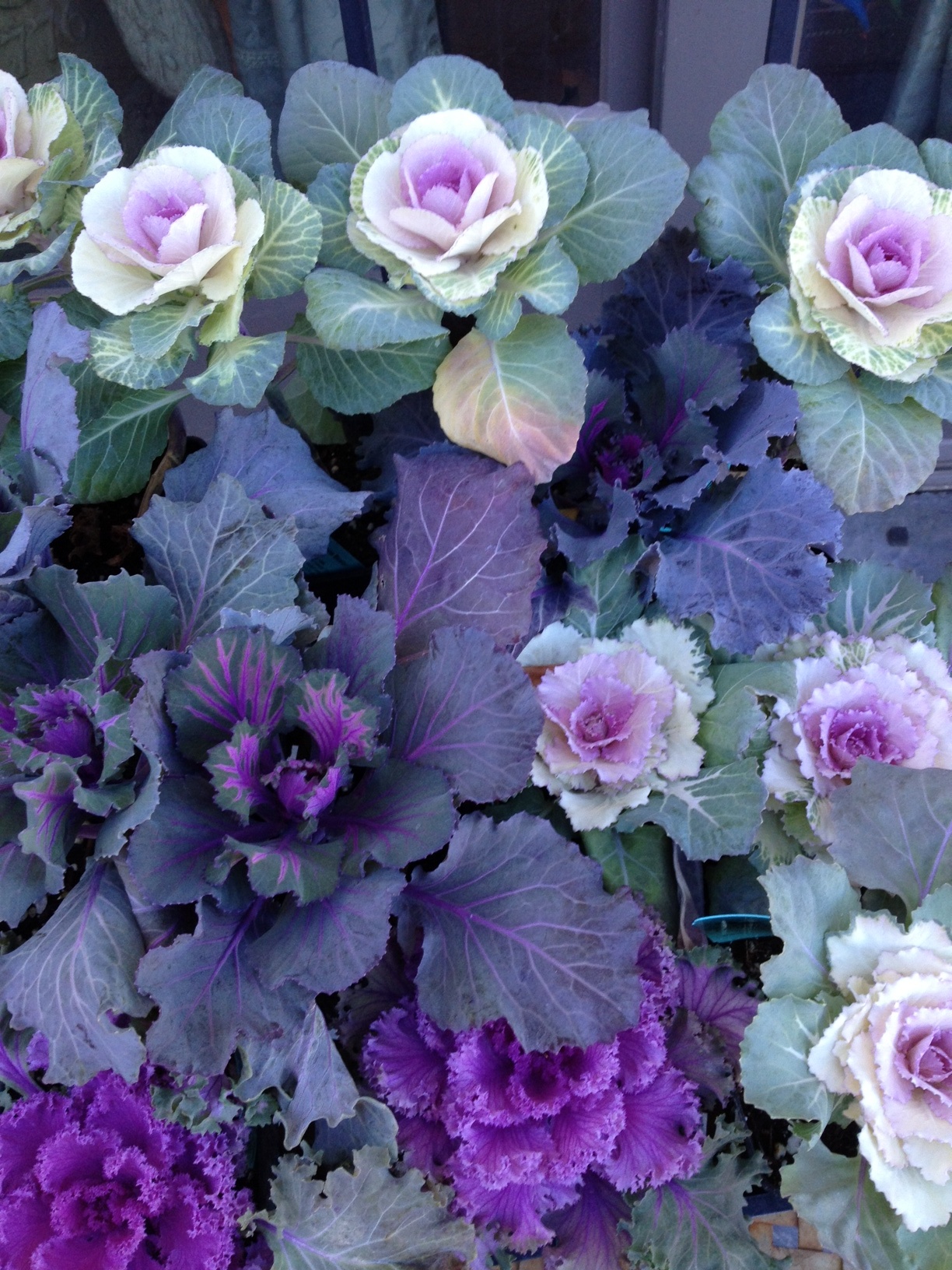 >
Kale can be more than just good for your body it can also be beautiful in the garden. Flowering Kale makes unique accents in decorative containers and garden borders. The leaf of the Flowering Kale has dramatic, intense coloring that develop as the plant matures and the weather cools. As spring arrives stalks of white, pink or yellow flowers can emerge from the centers of the colorful foliage.
Flowering Kale is sometimes called ornamental cabbage. Whether you call it Kale or Cabbage the botanical name is Brassica. Flowering Kale can be found in nurseries starting in fall and are available throughout the winter until the early days of spring.
The foliage of Flowering Kale makes lovely accents in container combination plantings. The colors of Flowering Kale provide contrast to other popular annuals. Install Flowering Kale to compliment multicolored pansies and violas.
Brassica oleracea "Color Up Red" is an exceptional Flowering Kale. The base foliage of this selection is the color of mauve mixed with an eggplant hue. The young leaves form from rosettes of ruffles in the center of the plant. It's also the young leaves that have the more intense colors. Magenta veins are eye-catching from the topsides of the leaves while the undersides are solid magenta.
Brassica oleracea "Color Up Pink" has a subtle color scheme. The base color of the younger foliage is cream with soft pink centers. As the leaves mature the color deepens to a gray-green with a pinkish tinge.
Both of the "Color Up" series of Flowering Kale colors intensify when the weather is cool, making them wonderful winter accent plants.
Brassica oleracea "Nagoya Rose" has awesome base color. The young and adolescent leaves are a vibrant purplish-pink. This Flowering Kale has highly fringed leaves. "Nagoya Rose" will produce a 18" tall stalk of lemon-yellow flowers the second year of installation. The flower stalk looks nice in the garden and also makes a great cut flower.
"Crane Bicolor" is another variety of Flowering Kale valued for its flowers, which appear on stalks that, can stand 24" tall. The "Crane Bicolor" has a picture perfect leave shape. They cluster to look like a rose.
Flowering Kale needs to be planted in full to partial sun. It is also fairly water-wise. Flowering Kale is short lived. Most plants will last only 2-3 years. However that doesn't lessen their impact in a garden or landscape. You'll be so pleased with their show that you'll replace them with more.
Since Flowering Kale is edible you can expect nibbles taken of the foliage. Small wild birds are mostly to blame for this. Don't bother spraying with a pesticide. A good rule to remember is a little for them, a little for you.
Happy Gardening.
Nicole Hackett is the Garden Girl at R&M Pool, Patio and Gardens, located at 6780 Marsh Creek Road in Clayton, 925-672-0207.
Nicole writes for the Clayton Pioneer Newspaper, and Claycord.com. She is also the Clayton Valley Garden Club 2012 President.

>