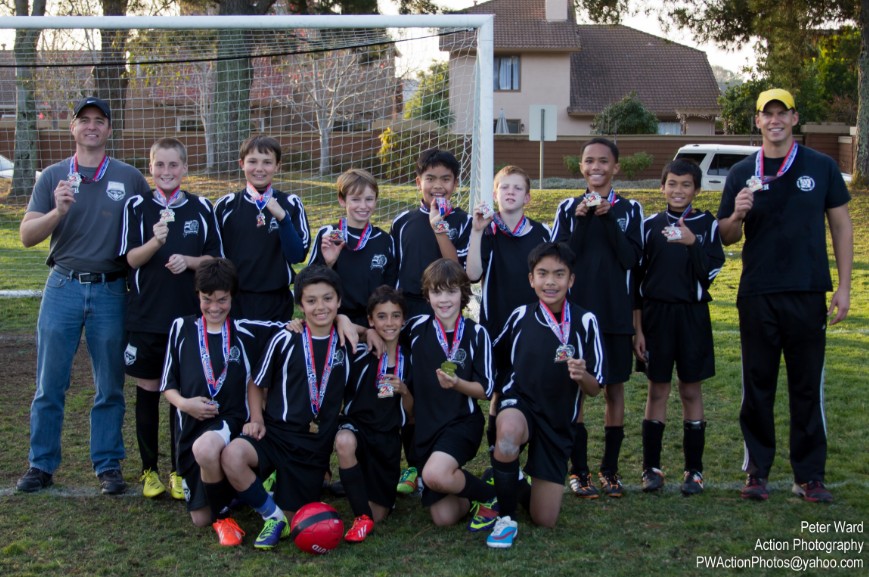 >
On December 14th and 15th, the Mt Diablo Soccer's Fall 2013 Under 12 boys team "Men in Black" faced off with eight other soccer teams in the AYSO Section 2 Tournament in Foster City. AYSO Section 2 covers Northern California, Oregon, Washington, Alaska, and most of Nevada (except Las Vegas). The teams qualified for the cup by winning first place in their AYSO Area Cups. "Men in Black" won the Area 2C Cup in Pleasant Hill on November 17 in a close victory over the top team from Concord AYSO.
In addition to our very own Clayton team, other teams from Menlo Park, Millbrae, Davis, Capay Valley, Reno, Cupertino, and Hillsborough faced off in the under 12 boys division in the AYSO Section 2 Tournament.
The Men in Black had not played together since their Area 2C Cup victory on November 17th and got off to a slow start with a 2-2 tie over Capay Valley Saturday morning, but they came back strong that afternoon with a 7-2 victory over Cupertino securing a 3rd place seed of the 9 teams for the Sunday morning quarter final elimination game.
Their next game was a frigid 35 degrees at 8am on Sunday morning where they defeated the 6th place seed team from Menlo Park 6-2.
The Men in Black then faced Capay Valley in a rematch in the semi-final round defeating them 5-1. This advanced Men in Black to the Championship game to face the top seed team from Hillsborough. The Hillsborough team had handily won each game in the tournament thus far with only 1 goal scored against them across all games played. Men in Black faced them head on and the boys had to play hard and dig deep to secure a lead.
The first quarter ended in a 1-1 tie, the second with a 3-2 lead, the third with a 4-2 lead, and a game winning final score of 5-3. As the AYSO Section 2 Under 12 boys champion team, Mt. Diablo Soccer's Men in Black advances to the California Cup in Bakersfield on March 15th and 16th, 2014.
The California Cup pits the winners of each of the 4 AYSO sections that cover the state of California against each other – Sections 1, 2, 10, and 11.
Good luck to the Men in Black, and thanks to Eric Sandoz for the information!