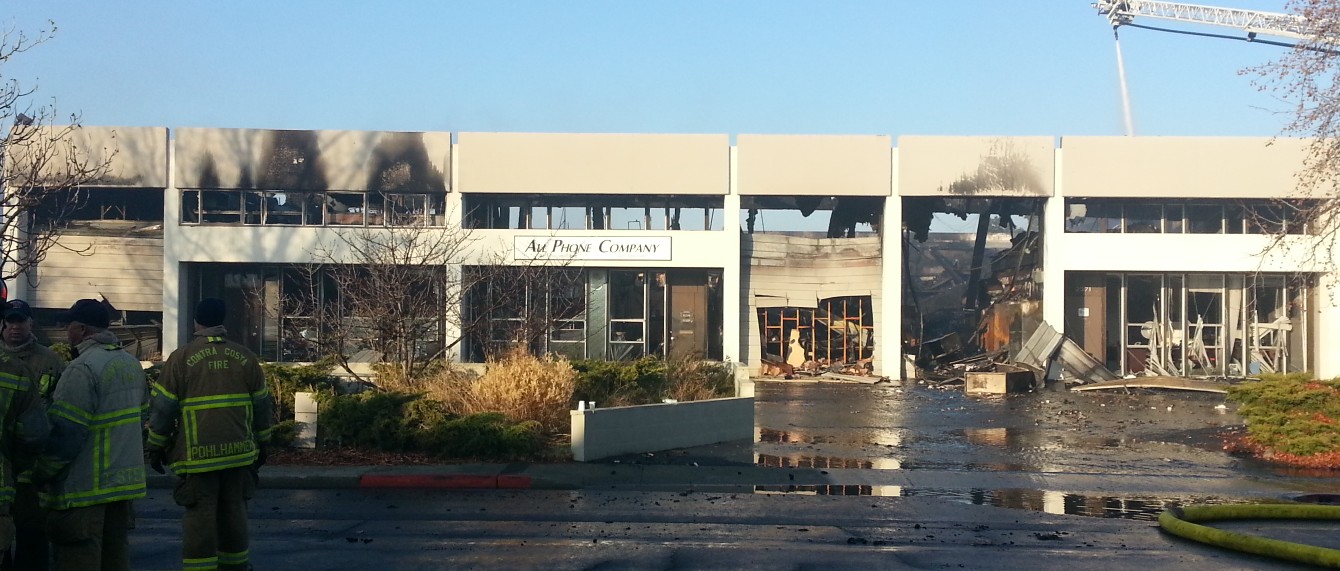 >
Firefighters are continuing to battle a four-alarm fire at a telecommunications warehouse in Concord this morning, according to a fire captain.'
The blaze is located in the 2300 block of Stanwell Drive near Buchanan Field Airport and was reported at about 12:30 a.m., according to Contra Costa County Fire Protection Capt. Robert Marshall.
Fire crews have been taking a defensive approach to fighting the blaze in order to keep firefighters out of harms way this morning, according to Marshall.
The fire was brought under control at about 2:45 a.m., but as of 8 a.m. smoke could still be seen coming from the building.
Marshall said that due to the threat of the roof collapsing, firefighters are not going inside the commercial structure. Firefighters allowed portions of the building to continue burning and waited for the roof to collapse, so as to get water inside the building and extinguish the source of the blaze.
According to Marshall, the warehouse is over 50,000 square feet and is the storage and recycling site of a telephone supply company that installs and recycles commercial telephone systems.
Marshall said the fire is burning "a lot of plastics, a lot of wire" and that while no official shelter in place has been order, "anyone who can smell the smoke should shelter in place."
No injuries have been reported, but Marshall said firefighters have not been able to fully access and inspect one side of the building that is still engulfed in flames.
A homeless population is also known to congregate behind the warehouse near a drainage area, according to Marshall.
The cause of the fire remains under investigation this morning.
© 2013 by Bay City News, Inc. — Republication, Rebroadcast or any other Reuse without the express written consent of Bay City News, Inc. is prohibited.
CLAYCORD NOTE: Thanks to Cory for the picture from this morning.