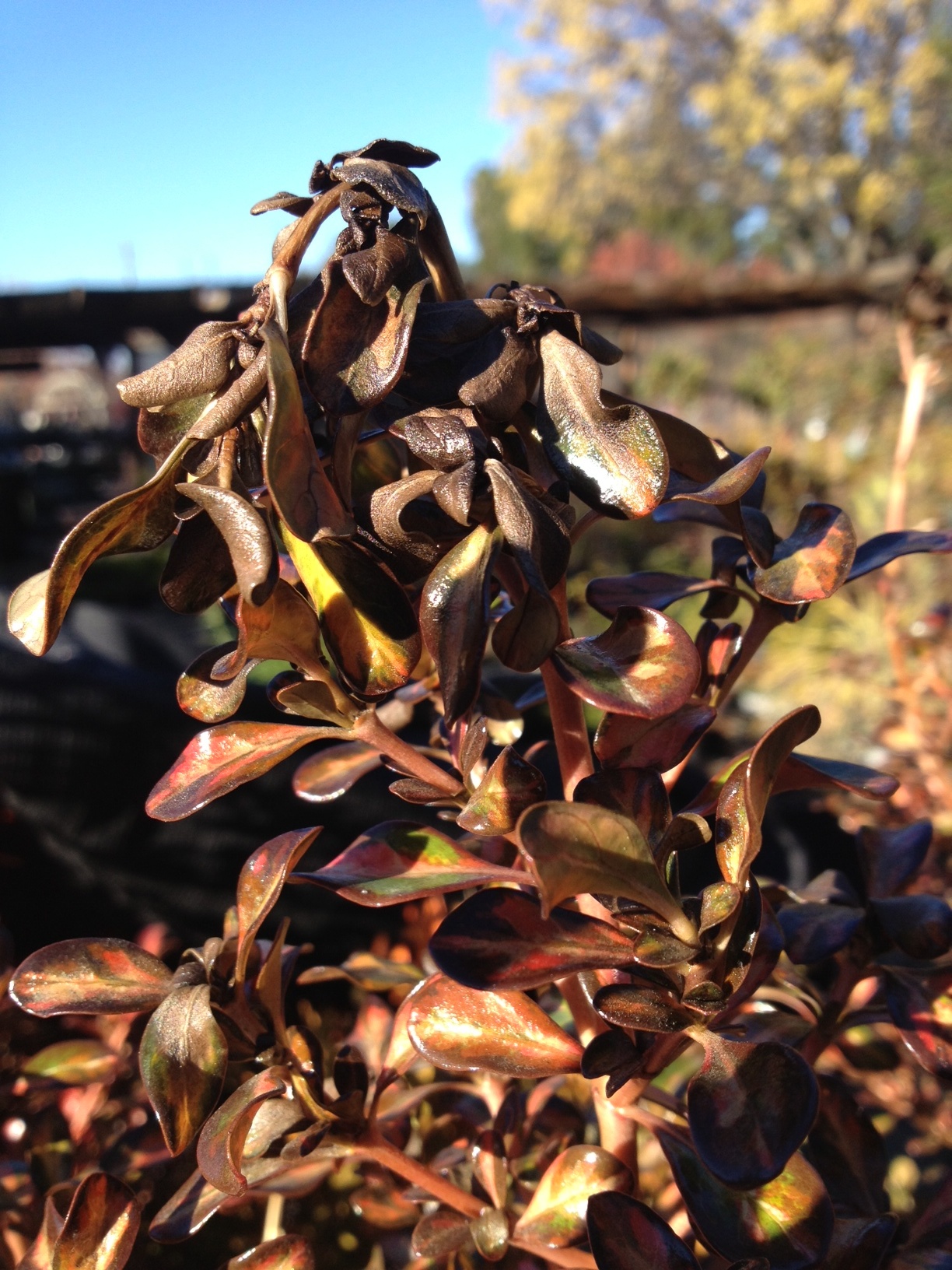 >
You can really tell the difference between the strong and the weak plants after a series of freezing nights like the ones we've been enjoying in Claycord. Even some of the plants that we considered the most hardy are experiencing some wilt and damage. Many plants can tolerate frost, but when the temperatures dip below freezing you can really see the damage.
Each morning when I arrive at the nursery I take a chilly stroll through the garden to survey the scene. I am not surprised by the wilt on the fuchsia plants and the fancy begonias, and some of our younger citrus leaves look slightly curled. The tip damage on the mirror plants did surprise me. Their leaf tips feel tender and supple but they are slightly wilted and have lost their color. It looks as if their recovery will be swift once spring approaches. This however doesn't change my mind about the awesomeness of the shrub. I now have more information to give the customer about what to expect when growing mirror plants.
It's nice to see so many plant lovers concerned for their plant friends. Folks have been coming in asking questions and seeking anti-transpirant plant protector sprays and frost cover fabrics. Their questions have been about frost damage on citrus, bougainvillea vines, and winter vegetable plants. My advice varies depending on the severity of the damage. It is very early in the cold season. There are more freezing nights to come, and we still have all of January and February to worry about. We have to keep paying attention to our landscapes.
Something plant-humorous was noticed in the garden this week. Our 6-packs and 4" pots of pansy plants have stood up to every moment of the freezing weather. Pansies. Really. These happy little flowers with their whimsy faces are some of the toughest plants on our shelves.
What is funny to us is that some folks use the word pansy to describe a whippy, scaredy-cat type person. Seeing how hardy the pansy is during this recent frost\freeze has changed how I'll now use this word.
Just a quick reminder; do not remove any frost damage from any of your plants and shrubs. If you have a weekly gardening service, let them know too. Chances are they don't know that they need to leave the damaged plant material alone. It will be hard for them not to prune away the ugly branches. The ugly foliage will protect the remainder of your plants. We have a long winter ahead of us with more frost to come, our plants will need all the help they can get.
Happy gardening.
Nicole Hackett is the Garden Girl at R&M Pool, Patio and Gardens, located at 6780 Marsh Creek Road in Clayton, 925-672-0207.
Nicole writes for the Clayton Pioneer Newspaper, and Claycord.com. She is also the Clayton Valley Garden Club 2012 President.

>