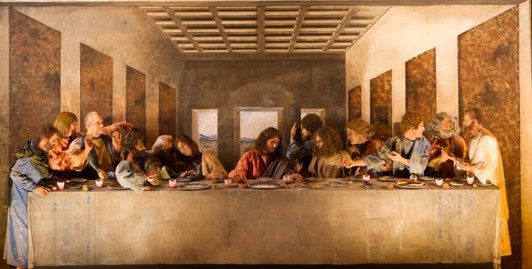 >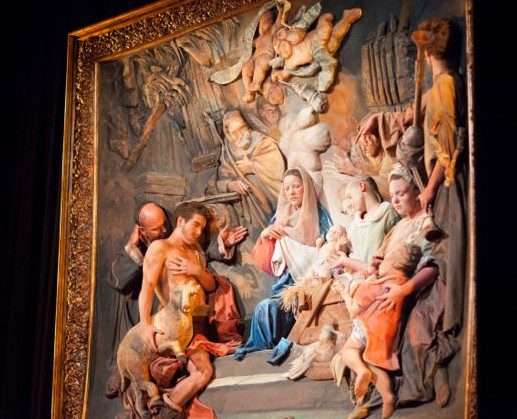 >
Claycord.com is excited to announce a ticket giveaway to "The Story", NorthCreek Church's very popular annual Christmas presentation.
Believe us, you have never seen a presentation like "The Story" in your life.
Dozens of dedicated volunteers have spent over ten months recreating multiple works of art, including The Last Supper and The Pieta. The artists take multiple photographs of the art and scale them to life-size versions, and present the "living" art in front of a live audience.
Using almost every imaginable item found at a hardware store, they build, carve, modify, and paint each piece to amazing detail. Even more remarkable, live models are placed in the art whenever possible. As an example, The Last Supper: The art piece is 20 feet long and 14 feet high. Thirteen men are dressed in costumes and painted to match Leonardo da Vinci's painting.
Backstage, the models walk into the piece, and when the curtain opens, they freeze in position. You, the audience, will be blown away by the detail. The experience is completed with a vocal team, and narration walking you through the story of Christ.
Last year, over 3,000 people attended "The Story", and this year, all six presentations from December 12 to December 15 are all already two thirds sold out, so do not delay if you wish to purchase tickets. For times and ticket purchases, click on "The Story" ad on Claycord.com (top left-hand sidebar), or visit TheStoryInArt.com.
And now, to the ticket giveaway! Claycord is giving away a family four-pack to your choice of performances with an exclusive backstage tour. The ticket package value is $80, and the backstage tour is priceless!
All you have to do is send an email to news@claycord.com with the words "I WANT TICKETS TO THE STORY", and you will be entered to win. All emails will be discarded after a winner is chosen, and will only be seen by Claycord.com.
Winners will be announced on Monday Dec. 9th on Claycord.com and on the Claycord.com Facebook page.
Winners must contact Claycord.com within 24 hours of being chosen. If no contact is made, another winner will be picked to fill the spot.
Good luck! For more information on "The Story", please click on the following link: TheStoryInArt.com.
"The Story" is a presentation of NorthCreek Church, located at 2303 Ygnacio Valley Rd. in Walnut Creek.
photos: courtesy of www.thestoryinart.com