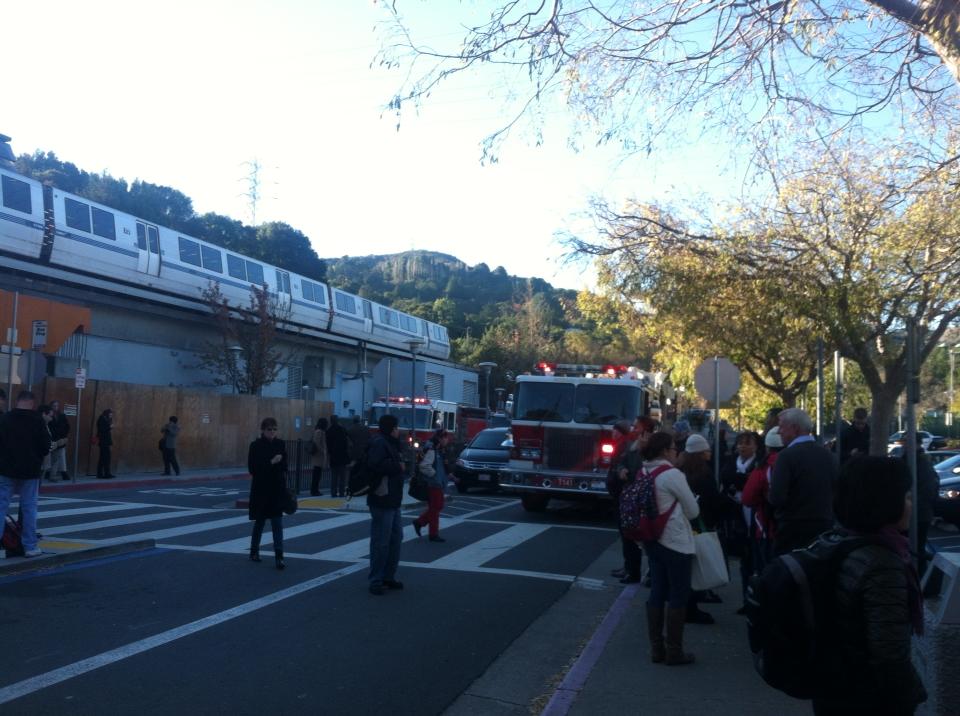 >
A brake failure on a BART train has created smoke and left a train full of passengers stuck on the tracks between the Orinda and Rockridge stations.
BART spokeswoman Luna Salaver said a San Francisco International Airport-bound train on the Pittsburg-Bay Point line suffered a parking brake failure.
The incident created "brake dust" and caused some smoking, and the train became disabled, blocking the tracks, she said. She compared the smoke to that created when a driver slams on the brakes of a car.
"There was absolutely no fire on the train," Salaver said. As of 9:05 a.m., the passengers remained stranded on the stopped train.
"We are sending a rescue train to get the passengers off of that disabled train," Salaver said.
The platform of the Rockridge station has been cleared out in anticipation of the disabled train eventually coming in, but Salaver said the station was not closed.
Crowds of commuters stood outside the station waiting to take BART to work.
An employee at the Cactus Taqueria on College Avenue across the street from the Rockridge station said the station's entrances are blocked by paramedics and firefighters.
She said there are groups of people waiting on the sidewalk. A person on the disabled train tweeted at 8:32 a.m. that there was some smoke in the train car.
Shortly after 9 a.m., that person tweeted, "Train operator calling for a doctor now… We are chatting in our car otherwise in good spirits."
About 10 minutes later, the same user posted, "We are waiting to be evacuated off Bart to rescue train. Getting instructions from train operator."
Salaver said there are major delays of up to 30 minutes in both directions on the Pittsburg-Bay Point line.
© 2013 by Bay City News, Inc. — Republication, Rebroadcast or any other Reuse without the express written consent of Bay City News, Inc. is prohibited.
photo credit: Andrea Rios