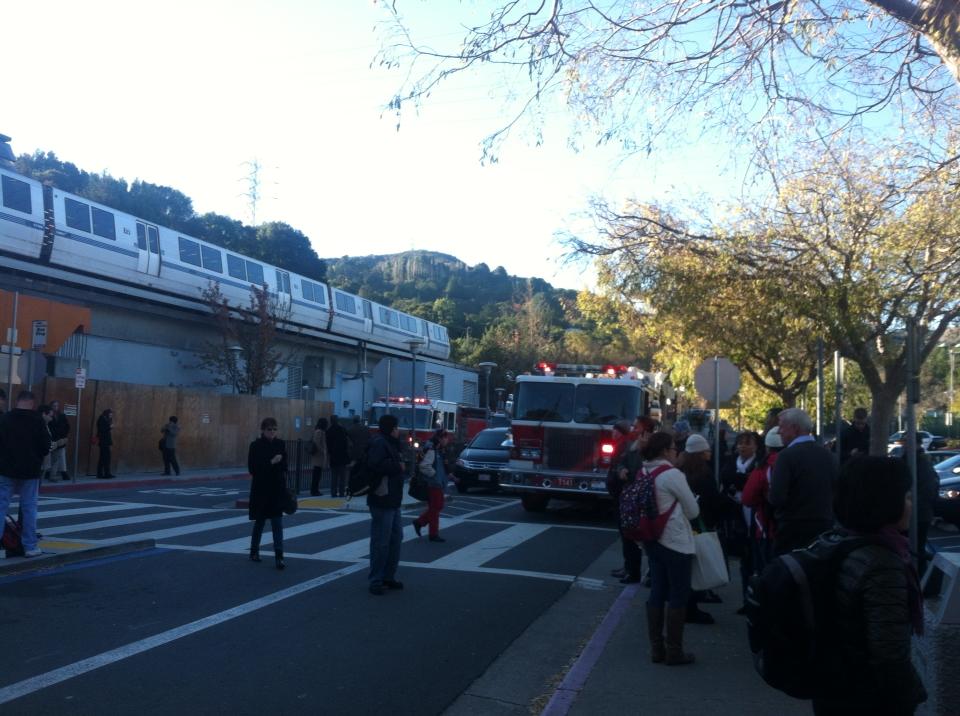 >
An electrical shortage that caused the emergency brakes to activate on a BART train traveling at 70mph is the reason for the major delays on Wednesday morning near Orinda, a spokeswoman for the transit agency said.
BART spokesman Alicia Trost said shorts are "quite rare" for BART and have only happened three times this year.
Jim Allison, another spokesperson for BART, said the 10-car train, which was traveling from Pittsburg/Bay Point to San Francisco International Airport and was carrying 600 to 700 passengers, gradually stopped on its own when the brakes activated at about 8:20 a.m.
The brakes are friction brakes that have pads and the activation of the brakes created brake dust that got into the impacted train car from its intake system, Allison said.
The train was stuck in the tunnel for about an hour but finally arrived at the next station, the Rockridge station in Oakland, at 9:34 a.m.
Oakland fire Battalion Chief Melinda Drayton said medical crews treated 11 passengers at the station, nine of whom were taken to local hospitals with breathing problems and other issues. She said there didn't appear to be any major injuries and there wasn't a fire or any smoke.
Drayton said medical personnel came to the Rockridge station at 8:45 a.m. and had the situation under control by 10:30 a.m.
BART's Orinda and Rockridge stations were closed while the train was stuck in the tunnel and BART service was impacted for several hours, as some trains were operating at reduced speeds for a time.
Allison said BART resumed full speeds on both of its tracks at 11:25 a.m. but there were still residual delays until noon.
Allison said the materials on the brake pads that were affected in the problem today are "organic," meaning that they are carbon-based and don't contain any toxic materials that might have harmed passengers.
He said the train that was stuck in the Berkeley tunnel was taken out of service at the Rockridge station and was then moved to the nearby MacArthur station in Oakland.
Allison said the train will be taken to one of BART's maintenance yards when BART service shuts down for a few hours overnight.
© 2013 by Bay City News, Inc. — Republication, Rebroadcast or any other Reuse without the express written consent of Bay City News, Inc. is prohibited.
photo credit: Andrea Rios