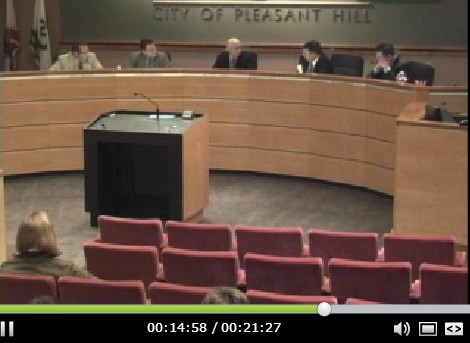 >
Pleasant Hill's now former Vice-Mayor took a shot to the gut this week, but didn't go out without some parting words to his colleagues.
Vice-Mayor Jack Weir, with his family in attendance, was expected to be appointed as the new Mayor of the City of Pleasant Hill, but an unexpected vote ended up giving the Mayorship to councilman Tim Flaherty.
It all began when councilman David Durant nominated Jack Weir for Mayor, but Mayor Michael Harris, and councilmembers Tim Flaherty and Ken Carlson didn't say a word. After a quick roll-call by the City Clerk to make sure the three councilmembers didn't plan to vote for Weir, it was determined Jack Weir would not become Mayor, even though technically it was his turn.
Before the roll-call, Weir asked for time so his family could leave the council chambers, and after the roll-call, when Tim Flaherty was appointed Mayor by a 3-2 vote, Weir left the meeting, but not before saying "I am humiliated, and I'm embarrassed for this council. I think what you've done is inappropriate, and is an embarrassment to this city."
Weir left to a loud applause from those in attendance, and said he would be back for future meetings.