>
Traffic Jammin' with Janis Mara – Every Monday at 2pm on Claycord.com.
TRAFFIC JAMMER: Greetings, all! This Claycord.com column is for everyone who negotiates the highways and public transit of the Bay Area. It runs every Monday at 2pm and answers your commuting and transportation questions.
Email your questions to trafficjammin@claycord.com.
TRAFFIC JAMMER: A few weeks ago, the Jammer invited readers to send in photos of their first car. Here's another beauty from our pal and frequent poster nytemuvr:
COMMUTER: Here's a picture of my Challenger I ordered from the factory and received 11/7/1971, my first and still my primary car and is a daily driver.
–nytemuvr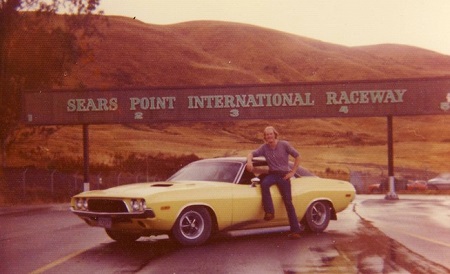 >
COMMUTER: I had a tough time waiting in a long line at the drugstore to pick up my prescription with my toddler and my wailing 18-month-old, only to return to the parking garage and discover myself hemmed in by a giant truck. The coup de grace was that the huge honkin' vehicle was in a compact car parking space.
If I hadn't had the kids with me, I would have tracked down the manager and reported this jerk. There's no way that truck belonged in a compact space. Could they have gotten a ticket for doing this? What exactly is the definition of a "compact" car anyway? And how can someone not know how much they are inconveniencing others – or just not care?
–Mad Housewife of Claycord (Not Crazy, Just Angry)
TRAFFIC JAMMER: Beloved fellow Claycordian, the Jammer feels you deserve some kind of award for heroically being a good example to your children and not keying this miscreant's vehicle despite the temptation. As you probably already guessed now that you have calmed down, alas, there is no penalty for parking in the space marked "Compact" with a hulking vehicle.
As to your other question: Technically speaking, one definition of a compact car is one with passenger and luggage capacity of between 100 and 109 cubic feet. Perhaps a more useful definition is that it is larger than a subcompact but smaller than a mid-size car. Obviously, a Smart car qualifies, as does a Honda Fit or Toyota Yaris.
COMMUTER: You once said it is possible to get compensated for damage to a vehicle if it's the fault of Caltrans because of a pothole, debris in roadway, etc. Can you give the contact information for that again?
TRAFFIC JAMMER: Happy to do so! You can find the damage claim form at www.dot.ca.gov/damageclaims.htm. If you live in Alameda or Contra Costa counties, call 510-286-5806 for more information. It really works. More than one reader pursued damage claims and told the Jammer they were reimbursed. It is time-consuming, but considering the steep cost of repairs, well worth it.
COMMUTER: I've got a question for one of your automotive experts. Cars are getting smarter with every new model. For years, cars have been able to turn on their own headlights when it gets dark. So why in the world can't they turn on the headlights when the wipers are on?
–Regards, Cowellian
TRAFFIC JAMMER: That's a great question, Cowellian! The Jammer is checking with her experts, including Brian Hagopian, auto technology instructor at Las Positas College in Livermore. In the meantime, here's the question, Claycordians, in case any of you have the answer. And now, a related note:
COMMUTER: Please include a reminder to all regarding turning on headlights when it is raining. With the last storm, it was surprising how many people did not do so. Turning on one's headlights, even if it is during the day, helps others see that driver.
Another reminder, my car has automatic headlights – they turn on automatically when it is dark out. During the last storm, however, as I was driving during the day, they did not turn on, I had to do so manually.
Considering that we are, hopefully, entering our rainy season, just a friendly reminder.
–Thanks, Kalyn
TRAFFIC JAMMER: That's it for this week – see you next Monday. Be sure to cruise by Claycord.com at 2pm for more traffic intelligence. Remember, whether you drive, walk, bike or hop Amtrak, BART or AC Transit, Traffic Jammer Janis Mara is here to answer your questions.
Send your questions to trafficjammin@claycord.com