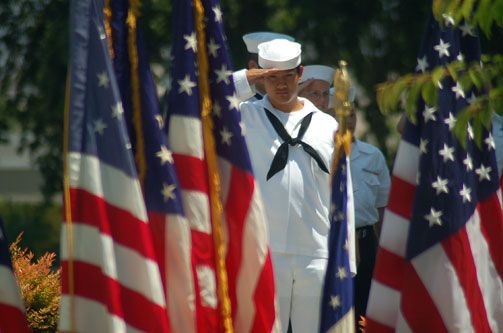 >
The bond between soldiers and the value of that bond in war and in peacetime is the theme of Walnut Creek's Veterans Day Ceremony on Monday, November 11 at 11 a.m. at the Lesher Center for the Arts. There is no charge for admission.
A Walnut Creek Television documentary featuring the Third Thursdays Veterans Group will illustrate the ongoing importance of camaraderie among veterans, even decades post-war. The Third Thursday group began meeting 10 years ago with a handful of members; today, more than 100 veterans gather the third Thursday of each month to share their experiences over lunch.
In addition to the video presentation, Third Thursday group member Steve Cram will deliver a keynote address.
Steve is among the youngest of Pearl Harbor survivors. When he was 4 ½, he joined his father, a minister in a Congregational Church in Maui, for church service on the hospital ship USS Solace. Steve and his father were on the ship when bombs began falling, and returned home safely.
Steve enlisted in the U.S. Army and also became a doctor. He served in the Vietnam war as a helicopter pilot for Saigon Hospital and a physician at the hospital. He is retired from the City of San Francisco, where he worked as a medical examiner (coroner). He lives part-time in Rossmoor and is the music director at Grace Presbyterian Church.
The Veterans Day ceremony will include a welcome from Walnut Creek Mayor Cindy Silva and a musical concert of patriotic songs including a salute to all the branches of the Armed Forces by the Walnut Creek Concert Band under the direction of Harvey Benstein.
There will be a reception in the Hofmann rotunda following the ceremony,
For further information, contact Walnut Creek City Clerk Suzie Martinez, (925) 943-5819 or smartinez@walnut-creek.org.